Blue dial speedmasters are almost mythical.
They have been seen over the years in several case references, but so far all in calibre 321 references. To be clear we are talking about the metalic lustre dials, sometimes referred to as Solei. The angle of light it crucial – in real life the two on the right are very similar. On the left is the Matt Grey dial that we are not going to cover here.
Here is the "TimeTitans metalic blue 145.012. I failed to buy this twice!
The dial is a hard metallic lustre, and a dark blue body colour and this can look grey. In fact one sold at Christies was described as grey, but when compared to others it is the same blue. This dial style was useed in other Omegas, the TV dial for one.
I believed (up until now), in the absence of a better theory that these blue, metallic dials are in fact service dials fitted by Omega. Now that Phillips has produced one with an extract this theory is threatened. But why did I think this?
There is no known listing of these dials that suggests that this was an option to buy new in a speedmaster – there are no contemporary photos or catalogs showing a blue metallic dial.. (But nor was the Ultraman which the museum has recently announced is a "Real Model")
There are very few seen, and to my knowledge these have been seen on 2998, 105.003 and 145.012.
I have seen three different executions. A short indices non pro, a long indices dial non pro, and a short indices 145.012 professional dial. (This last one out of my grasp – I call it the Time Titans watch, as I saw it with them several years ago and I failed to buy it).
So now lets look at the Phillips watch. I review the sale here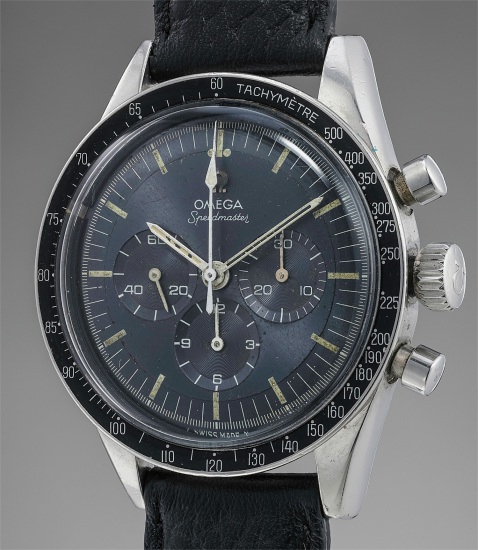 We can clearly see this is indeed a metallic blue soleil. It is however not in as good condition as the two presented to Auction in the last five years. A close up reveals a damaged and spotted dial. (Bezel is fabulous mind you!)
But the real question is this. How come that a dealer in Mexico managed to sell a watch in 18 May 1964 that was yet to be released by Omega until 11 September 1964. The official explanation is listed in the description as:
"Interestingly, the Extract from the Archives confirms the country of destination but it mentions a sale date 4 months later than the one mentioned on the original warranty. This riddle was solved thanks to the assistance of Omega: as it turns out, they marked in their books the watch as sold only once they received the payment. It then makes perfect sense that the "Archives Date" is later than the one on the Guarantee."
We also know that Omega's archives, which I must repeat is staffed by incredibly helpful kind and knowledgeable people, are not straightforward to read. Much of it is on punch cards, with holes designating model and specification by their location on the card.
I have asked for several extracts for blue dials and none have come back blue. I suspect that there is a certain amount of pressure that has been applied by Phillips to get this extract. And the explanation stinks – because if that is true, then it brings into question what the date on all our extracts is, as it is not then a "Production Date" it is a payment date, and so makes a nonsense of what we have all been thinking to date.
Phillips repeat the line that 5 to 10 exist. Lets see. We have four so far in this thread.
This one was seen on ebay, October 2015.  It is possible it is one of the ones already mentioned, but I cannot see a similarity.
Sold by Menta Watches after asking $32,000 in 2017. Note Non Pro dial with  long indices, damaged at 6 and 10 O'clock.
Here is one posted on Omega Forums by member DLT222. Obviously we are looking at the left hand watch. Note the Non Pro dial, short indices.
This one, published on Omegaforums again, is possible not Soleil – the photo is hard to see: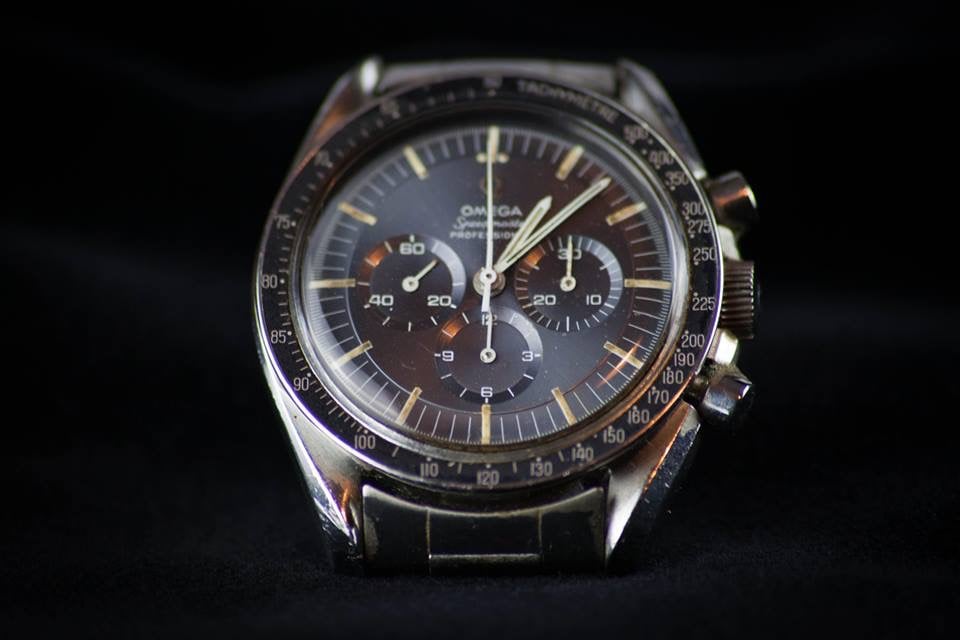 In february 2018 OmegaForums member Cad290 Showed this. I am sure the lustre is metalic, and it is blue – The plots are a very unusual colour. Note the Non Pro Dial, long indices, and short T marks.
Here is the same watch in natural light. This highlights the difference lighting makes when photographing these wonderful watches: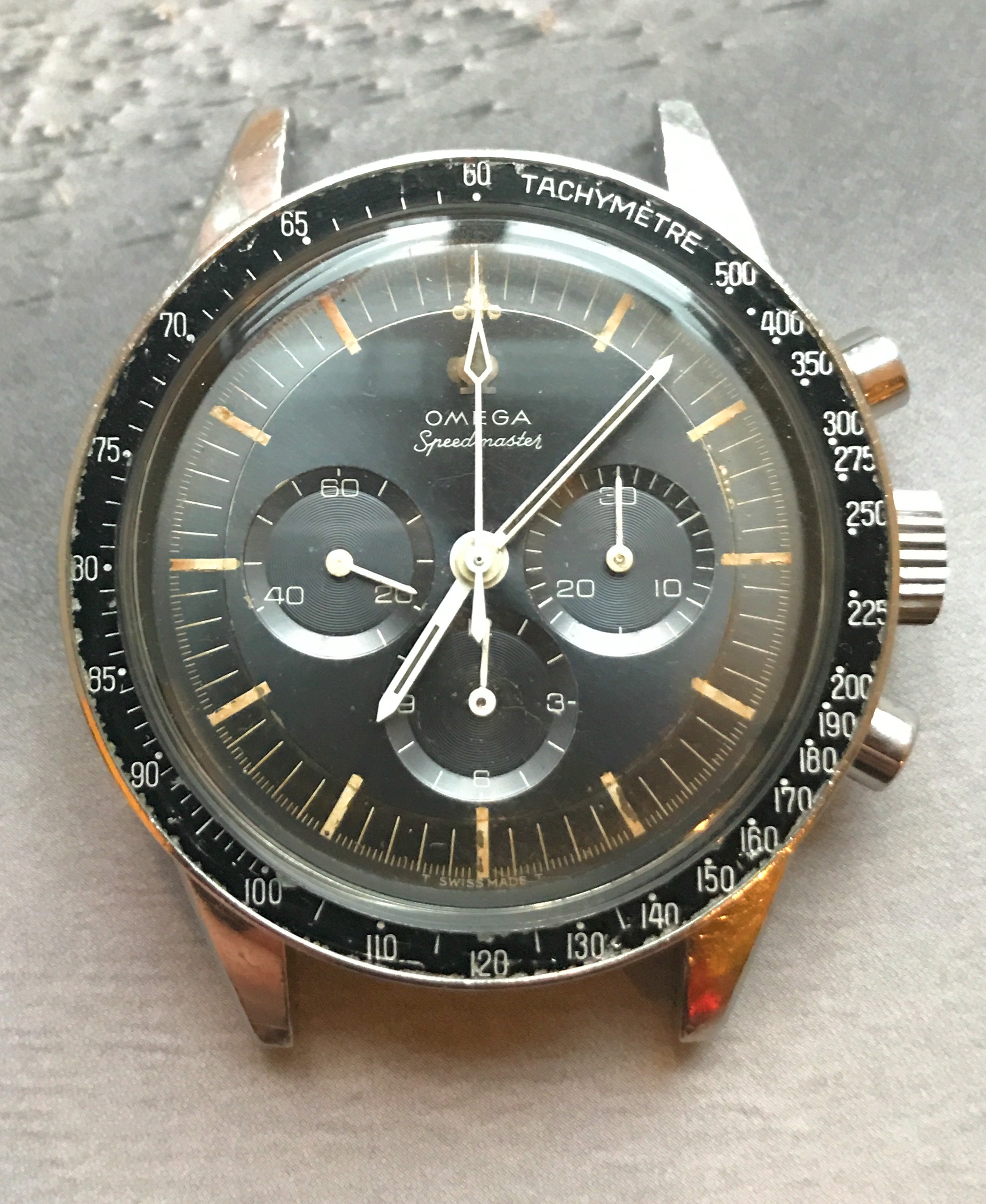 This one, definitely a blue soleil, was shown in Geneva 2016 by Davidoff Brothers. Note the Non Pro dial with short indices.
Here is another 145.012, exhibited by sliceoftime.id. It does not appear to be the Time Titans watch and so we can say it is the second 145.012 seen. Note the dial is a Professional, long indices.
After I published this, further examples have come to my attention. Here we see one from The Master of Speed. (He always presents good examples of watches):
Conclusion
I have photos here for twelve. (And I know of three more not shown here). I have seen many combinations of blue soleil dial, we see both long and short indices on both Professional and non Professional dials.
It is possible there is a Grey Soleil – one with the metallic lustre but black/grey not blue. They are difficult to photograph and so the colour is not always true.
There is also a Matt Grey dial, and this is usually in poorer condition, as the materials appear to be unable to withstand the passage of time.
I do not think that Omega has a record of when a blue dial was fitted. I think more will be revealed with the Phillips watch as it is opening a an of worms regarding Date of Production, which is stated on the extract, now being announced by Omega via Phillips that it is actually date of payment.