Phillips are holding what they call Auction Eight (not a bad idea to number them) in Geneva on November 10th and 11th 2018. I cannot quite see why it is listed over two days, and the auction is scheduled to start at 5pm Geneva time on 10th November.
Here is the relevant paragraph from Phillips site regarding buyers premiums:
Phillips charges the successful bidder a commission, or buyer's premium, on the hammer price of each lot sold. The buyer's premium is payable by the buyer as part of the total purchase price at the following rates: 25% of the hammer price up to and including CHF250,000, 20% of the portion of the hammer price above CHF250,000 up to and including CHF4,000,000 and 12.5% of the portion of the hammer price above CHF4,000,000.
Lot  17     105.012-66CB     $7,200 – $12,300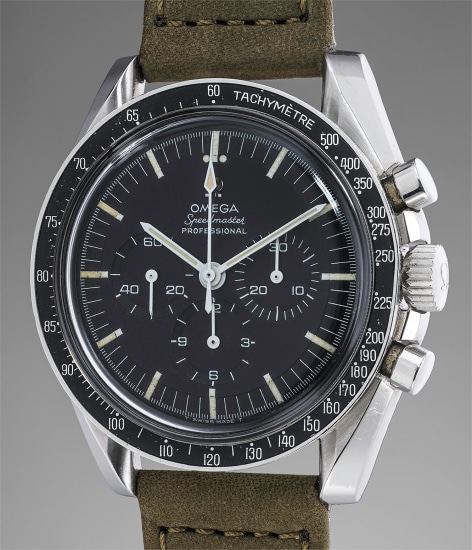 From the front this is a very nice example. The bezel is correct DO90 in good condition, and the dial is is also in good condition, with some plot decay, and the lume is very thin. The hands are in much better condition, and I would wonder if they have been replaced. The back of the watch carries engraving, and I am one of those who does not care for engravings, unless there is a NASA connection, and this is not. To be fair, the estimate does not appear to have been influenced. The watch has an extract which is always good. The facet lines on the lug are visible and the pushers have fat necks, the crown appears correct. I expect this will sell well and the owner very happy.
Lot 33     145.022-69      $7,200 – 12,300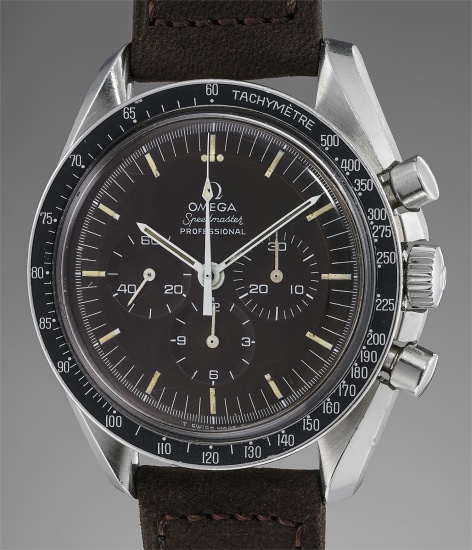 An immediately attractive watch. The dial colour is a very attractive brown, without appearing decayed, and fits in the 2911xxx serial range where we expect to see these kind of dials. The case is slightly damaged, and there is a very annoying chip on the otherwise fantastic bezel. It is so close to being a "buy at any price watch" with that dial and hand set, but it is not. It is let down from that lofty high by the case and bezel, but it is still a very nice watch, just one I would not bid to the moon for. It is very desirable  and again will give pleasure of ownership.
Lot 34     BA145.022-69      $15,400 -$25,600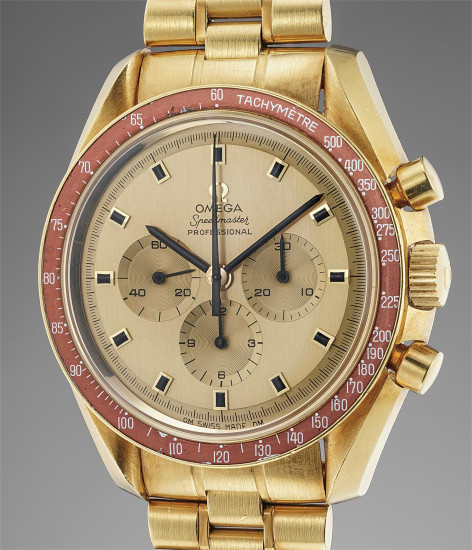 There has been considerable interest in the market for these gold watches and especially this reference recently and so I think the estimate might be low. This is a later example, No 722, and has the round O in Omega on the dial. (Although evidence does not support a connection between production number and dial style). The bezel is original but tired, though I have seen worse. It is not possible to truly gauge the condition of this watch from the photos, sometimes these gold watches can show some wear, but this watch seems good enough from what I can see to blow through the high estimate. I am slightly concerned by the fit of the endlinks, and as ever with these we have to check the condition of the bracelet as repairs are very pricey – think $5,000+ for a bracelet restoration. Though that never puts buyers off, I do not think they believe it!
Lot 36     Alaska Prototype     $41,000 – $61,000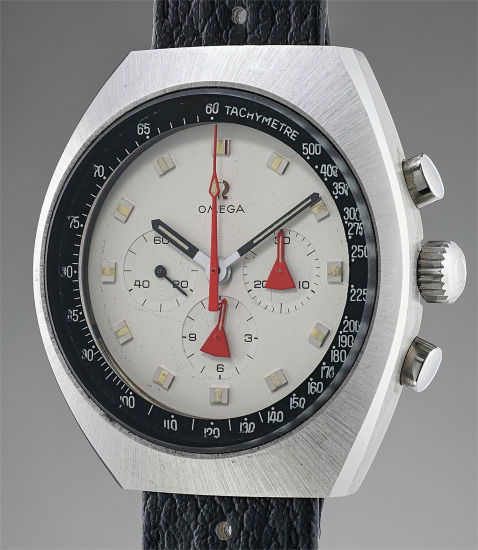 Outside the scope of my site, but oh I want this. I sometimes wonder if someone has a whole pile of these things and is dripping these interesting prototypes onto the market, but I really like this. I cannot believe it wont go for over $100,000.(Despite the Chrono creep!). What a rare piece of history. (Assuming Omega does not have a drawer of these somewhere in the factory!)
Lot 37     105.003-65     $20,500 – $30,700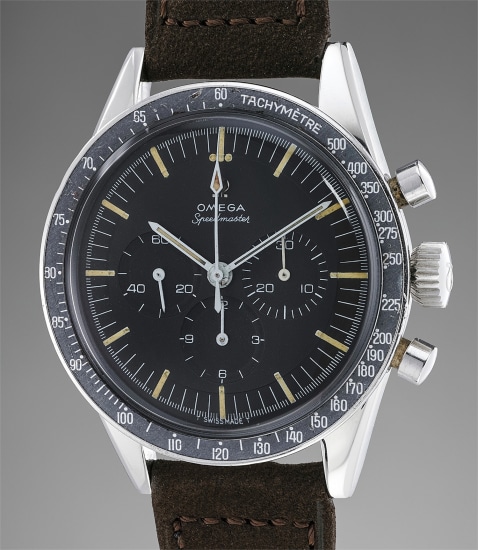 This is estimated quite high, and on close inspection it is true that the dial and bezel are in good condition – not fine, but good. I personally do not like or value the bezel colour. The case is hard to judge and I think in hand it will give a good impression – it could be the result of Omega refinishing as it looks similar to watches I have seen fresh from Bienne. The pushers and crown look original, but some how I feel this watch might be close, but no cigar. In fact I suspect it is a dealer watch. Why? Because the quality is slightly lower, (but hard to criticize,) and the price is slightly high. I could be wrong and this watch definitely needs to be held before being able to feel comfortable with a high bid. For me this is not a watch I would go hard for, given the grey bezel and the polished case.
Lot 39     105.003-63 Blue Dial     $61,500 – $123,000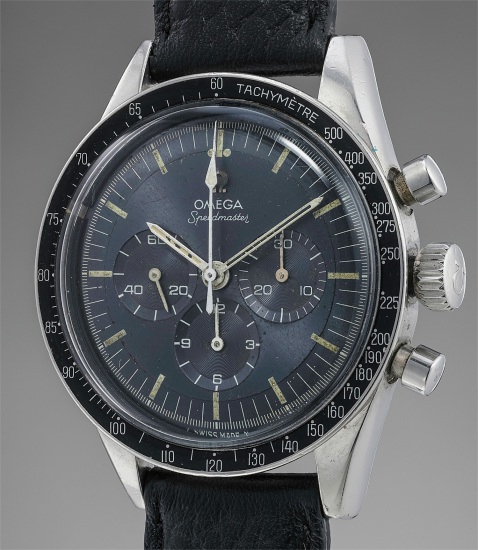 This is the first blue dial I have seen with an extract from the museum that specifies a blue dial. There is a debate on www.OmegaForums,net regarding the dating anomaly between the extract and the guarantee, here.
Well I don't care about the papers, the value is in the dial itself, though I accept some will pay more as a result of the papers, were they to prove genuine. Right now the estimate reflects the value of similar watches sold without papers.
I could get quite critical of this very rare watch, as compared to other blue soleil dials as this dial does show some marks and damage.
However it remains a very interesting and valuable watch and I have no doubt it will sell well.
Lot 111     2915-1 Tropical     $154,000 – $307,000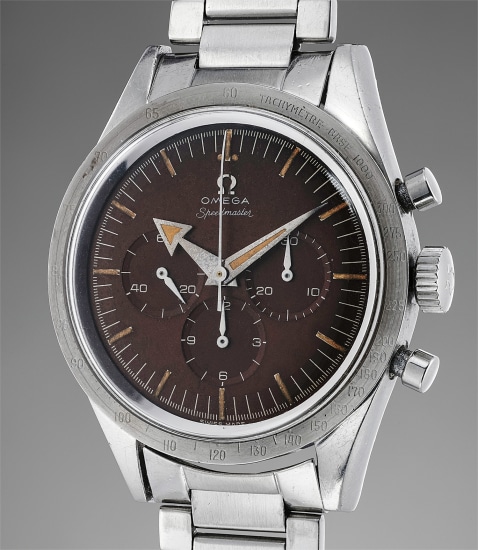 This is a terrific watch, with tropical dial and an extract. The bezel looks ok to me, and the rest of the watch checks out as far as my knowledge will allow. I do like the colour, and I cannot see this watch not selling well.
Bezels are always a worry on these and there is some discussion of them here. Though as ever when money is involved it gets a bit off piste with personal discussions of motives, but there is some interesting stuff there for the prospective 2915 buyer
Lot 114     2915-2     $154,000 – $256,000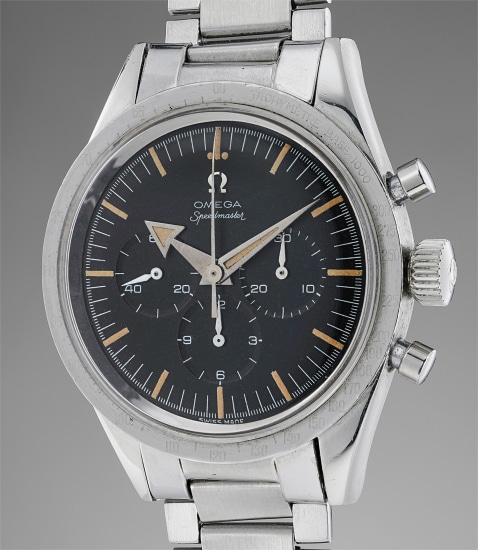 The dial on this watch is very good. One might even say it is in better condition than the tropical one in the same sale, if we just look at condition of the surface of the dial. It is really impressive. The bezel is so worn, we have to wonder why, and how, and I invite you to make your own mind.
A very special example.
Feel free to add a comment here on OmegaForums