AQ Fake Bezel Resolved Happily
In December 2018 I traveled with Mrs Fruit to Geneva. Early start, day trip from London.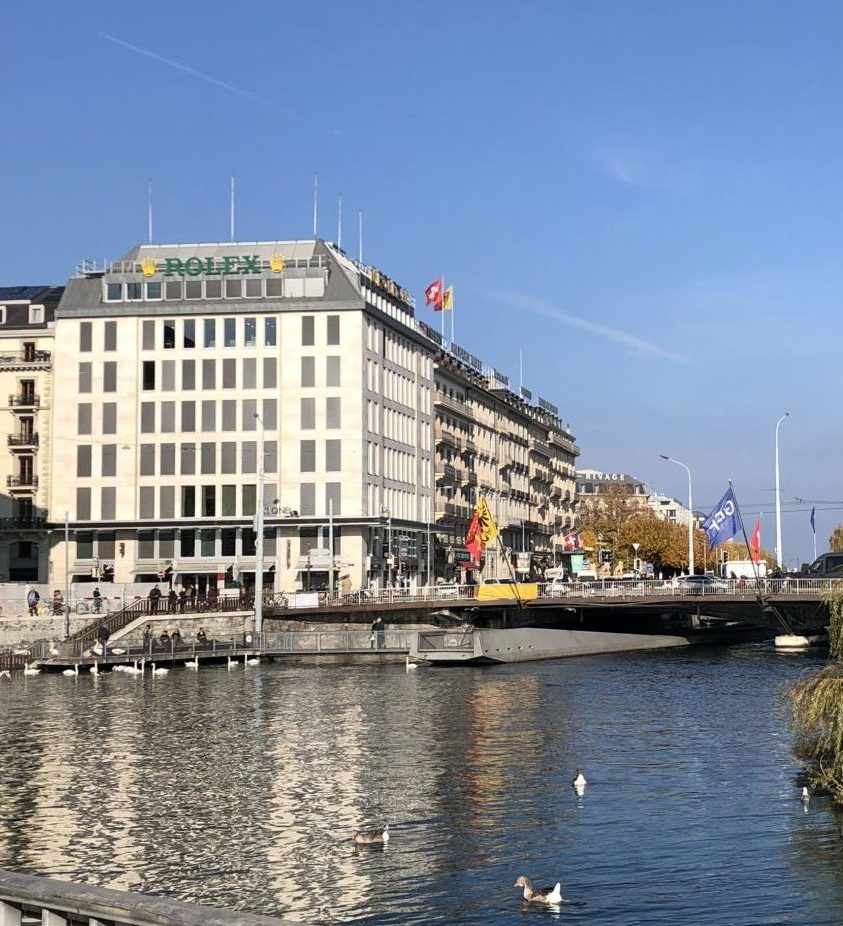 Primarily I wanted to look at the 2915's being offered, as it was a great opportunity to see several examples in one place. I was especially interested to see the prices realised for these early speedmasters after two sold earlier in the year for $400,000 and $275,000. Prices so much outside my understanding I wanted to handle the pieces being offered so I could feel what was going on. I wrote about that visit here.
In my previous life I made my living trawling through auctions (not for watches) and so its a familiar environment. One of the habits I picked up was always try to buy something on a trip. It seems to lock my mind into a feeling of what was going on at the time. It also focuses the mind, trying to find the sleeper in the group. There were four auctions to choose from, surely I could find it? As it turned out, if I had money, the real sleeper might have been one of those Phillips 2915's.
When buying, my mindset now is all about finding a watch that will knock out an existing watch from my collection. So if I find a good example, I buy it take it home and put it next to the one I have. Best watch wins, and its another OF sales listing for the one that was knocked off the pedestal. 
This caught my eye – its a 2911xxx 145.022-69 with what appeared to be a flawless DO90 bezel:
Please remember this was December 2018. At that time, not many people considered that a fake DO90 bezel was plausible, possible, or circulating. Let alone circulating early enough to have arrived into an auctioneers office in time to be cataloged for a December sale.
So my hunters eye was drawn to the Dot Over the Ninety bezel – and I focused on the actual dot over the ninety. I went round the rest of the bezel searching for blemishes and saw none. I admit i got over-exited. To me, a flawless real DO90 is worth $5000. No question. Offer one to a big speedmaster dealer for his grumpy 2998 with a meteor bezel and he will snatch it from you. So my feeling was that at $6500 for the whole watch it was a bargain. The bracelet is a later 1171 which alerted me to the idea this was a trade watch – which should have made me more careful, but I was blinded and ignorant.
It just shows that I do not know half as much as some people think I do. (I am just happy to share what I do know). I can only know what I have learned, and there is always more to learn. In the knowledge of bezels, I was complacent, without meaning to be, but I was.
I did not collect this watch until January, and I did not realise the bezel was fake until I posted a slightly show – off post on IG….well I did think at the time I had done spectacularly well. Oops. Here is that photo, showing the AQ watch on the left, next to a recently acquired one owner watch of the same reference on the right.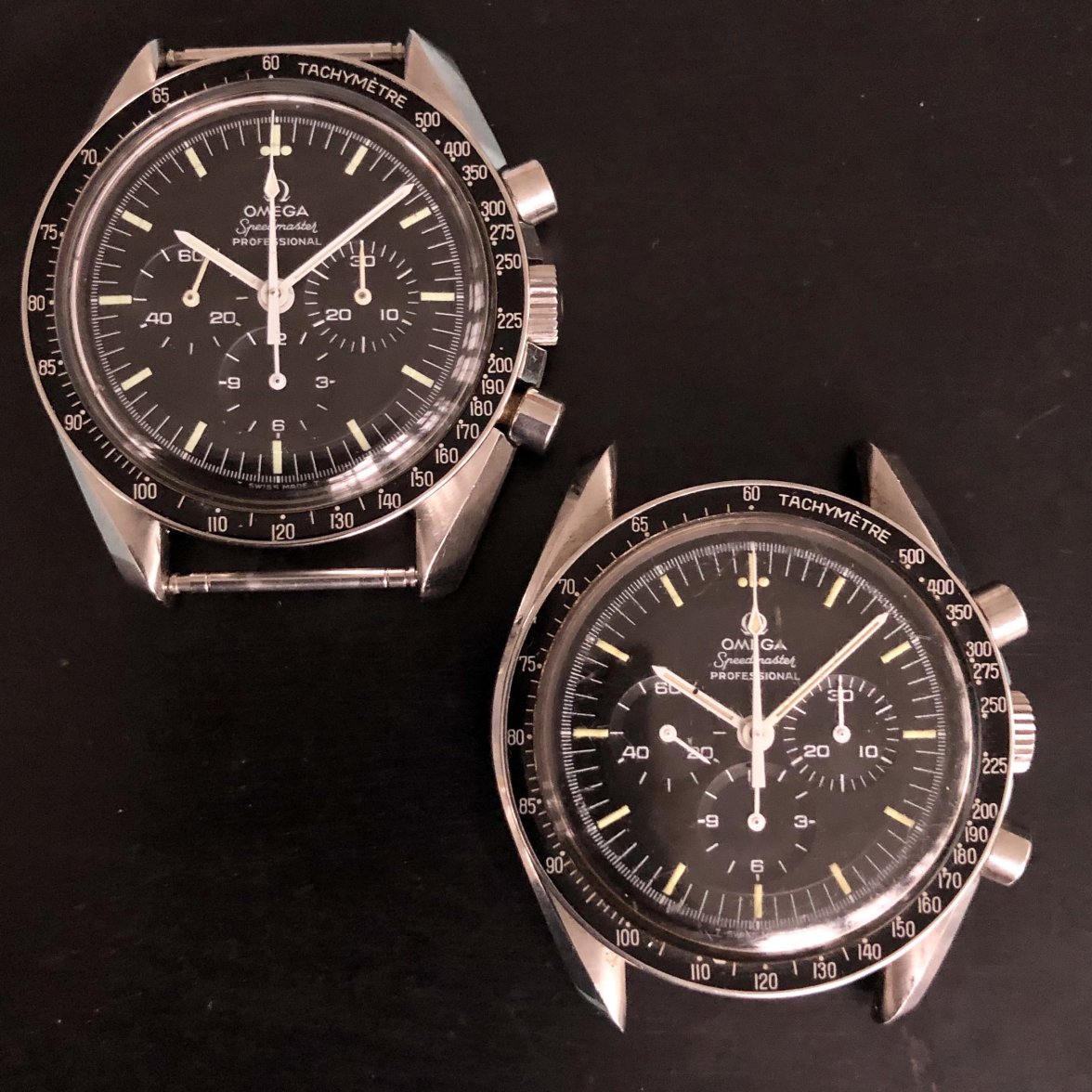 A sharp eyed follower alerted me (politely – some are not so polite when they see me make an error and delight in trying to shame me, so that was appreciated). So I took the post down to investigate, and to approach AQ.
Note the watch on the right, is the original one owner watch. On the left, note the position of the Dot at the 140. It is almost an " i " compared to the left where the dot is over the 4 of the 140.
I wrote to AQ informing them I wanted to return the watch, as the bezel was counterfeit.
The response was as expected, that the sale had taken place three months previous, and that no mention or representation of the bezel's originality was made. They went on to say that the bezel was clearly shown in the photographs, and it can be seen that the dot over the 140 is in the wrong place.
Now this is all true. It is clear in the photo to us with the knowledge we have today, that this is a fake bezel. However in December 2018 it was not common knowledge. I am also not surprised, nor do I blame the staff for not knowing the bezel was fake for the same reason.
I also accept that it took some time to discover. Although if it were a Rembrandt sold by Sothebys that was discovered, years after the sale, as fake, then what would happen then?
Having laid out their case, which was the bezel was clearly shown, and the discovery of the counterfeit months after the sale and settlement, they offered the choice of a new genuine service bezel or a vintage DO90 replacement bezel.
I was pleased with this counter offer – returning a watch is always bureaucratically challenging, crossing customs jurisdictions and money returning, its a headache I would rather avoid. The offer was, without accepting liability, in my opinion the correct thing to do, and I am impressed with AQ's decision. As auctioneers they are just agents, and have to be knowledgeable across a wide spectrum. How they deal with inevitable issues like this is a window into the operation. As a result of how they handled this, I would have no qualms about bidding again – I would perhaps do more due diligence, but that goes for all auction houses.
Here is the replacement they sent:

Its not the best DO90, and we all know hard it is to find one. It is better in real life than in the photos. Bearing in mind the cost, and the condition of the rest of the watch, I am very happy. The staff at AQ turned my thinking right around. I was never going to bid at AQ again, I was so upset. I felt completely conned, and let down. However they way they dealt with it, by replacing the bezel, was an example to other auction houses. I think they took a bad situation, and turned it around. I cant tell you how rare that is in the auction world.
Now the story with AQ ends here. But the counterfeit bezel story continues.
What would you guys think of this? Here is a bezel on the same AQ watch:

This is one of the newer fake DO90 bezels, where the DO140 is correctly positioned.
The give away here is the steel ring, and some minor font issues. Its actually easier to spot once you know.
So this watch has gone off to Simon Freese for the new AQ bezel to be fitted, and I am a happy customer of AQ.
The more I think about it, the more I think they really did the right thing.