Watches Of Knightsbridge March 2018
Watches of Knightsbridge are presenting an auction of watches on March 17th here. Also you could go to my friend @ewand 's post over on Omegaforums.net here and see the photos, and his very good assessments. However after seeking legal advice I can now point to the images from this page, allowing you to have it all on the one page.
I have spent some time studying this sale. It would be easy to dismiss the speedmasters here as all being overpriced and not good quality. But I think that is an error (one I nearly made to be honest). Because after going through them in depth, I think they all have something to offer, and while we might say they could be a little high, I suspect they will all sell and therefore (by definition) they are priced within what the market will pay. In general the photos are sharp, but not able to help me full appreciate the watches, with dust, lint or crystal damage that without further images from different angles it is hard to make judgments.. More photos of each lot would have helped make judgements on the states of the dials and location of damage. The Ed White is especially interesting, and I think completely misjudged. See below for my ideas. The other watches are fairly run of the mill, possibly from owners possibly from the dealers of Portobello, but they often flip watches untouched so not a bad thing.
I think WOK are offering a range of watches not easy to see elsewhere. I don't think they are cheap, but they are there.
The photos shown here are not hosted by me, nor copied from Watches of Knightsbridge. I am happy to enable you to see the WOK images by embedding them, not hosting and therefore there is no infringement of copyright.
I have to say I look forward to any WOK sale as they always produce an interesting, varied and packed sale, with lots of interesting watches that do not often come up in the bigger auctions. The catalog is always a pleasure to read for its variety. Here I will only concern myself with the speedmasters, as that is all I know.
This post is a preliminary look through the catalog, and I hope to add more information later. Because of the standard of curation we need to view these in hand to fully be able to value them. (Again, not a criticism – I like this sale for that, it means we see a wide range of qualities and therefore more watches). It is great to see all these early speedmasters in one sale.
Photos look good, until you try and get solid information from them. (Good from far, Far from good). Watches all have one or two  images (Except for Lot 194), that is hard to glean value influencing information. This sale needs to be viewed and when I have I shall adjust these notes.
Auction fees here are 24% incl VAT (Reasonable compared to the grownups).
Estimates are quite narrow.
Most bezels are unusually poor.
A good selection of what might be original watches, that do not show dealers preparation.
Lot 193 105.003-65 £6000-£8000
NAAFI receipt, decayed dial. Many correct parts with possible exception of crown, and maybe pushers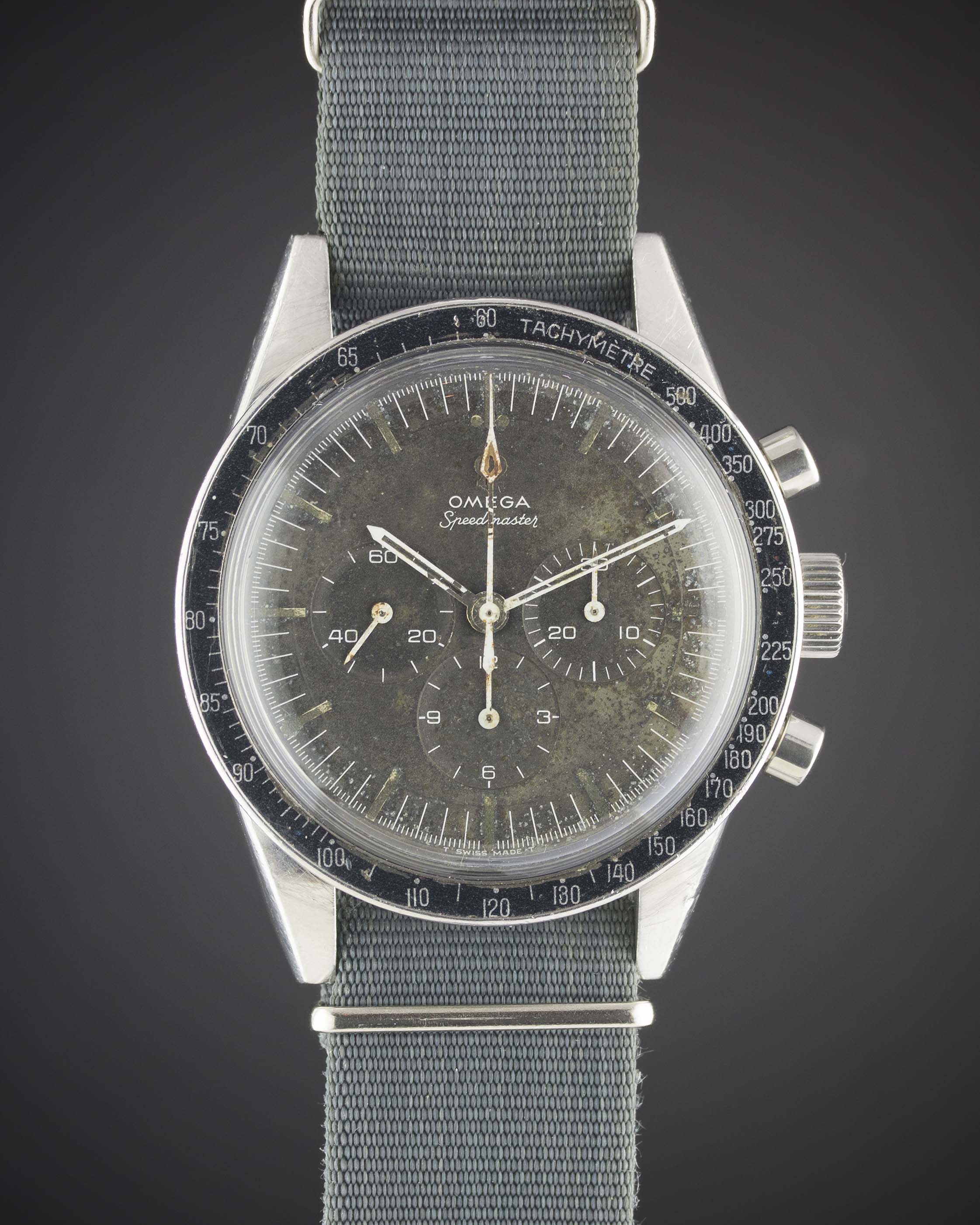 At first glance this does seem a lot of money for a damaged watch.
I don't think those decayed, but matching(!) hands and dial will ever look good, but they might, and appeal to a real patina junkie. Mrs Fruit looked over my shoulder and remarked that it looked like it has lived too long in a dirty ditch, and I think that is a better description than Tropical. "Ditch Dirty".
I love this watch, and I think it will sell. The auctioneers describe this watch as having a good condition tropical dial. This should tell you a lot about this auction house's standards, the standards of the people in it, and their demonstrably limited knowledge in assessing watches. How can you call this a "Good Tropical Condition" ?
Please do not interpret this as an insult – I am merely pointing out that anyone looking at this sale cannot (demonstrably) rely on anything the staff say – so, you HAVE TO DO YOUR OWN DILIGENCE.
Now lastly, you could look at this the other way round. What is a papered Ed White worth with a nice dial? Well a nice one has to be around £15,000 today – could this watch, with a nice dial be worth that? So then we start to think, could we buy this for £8000 or even as much as £10,000 and then go shopping for a dial? The dial might cost as much as £5000 and it would still make sense. So I can now see where WOK's valuation comes from. This does assume that the rest of the watch that we cannot assay is good, the movement the  case etc.
The question is, who has a nice spare dial, and then who wants the un-original watch? (After all the watch will always be known as a dial substitute, and is identifiable by the paper, even if we do not have the full number. On the internet, nothing vanishes.)
I think a dealer will buy this.
Lot 194 145.012-67 £5500-£6500
Correct parts. (Except the movement attachment screw)
This might be quite nice, the dial has a potentially pleasant fade. A fair DO90 bezel, though a bit faded. There are plenty of photos on the site to enable a much deeper assessment.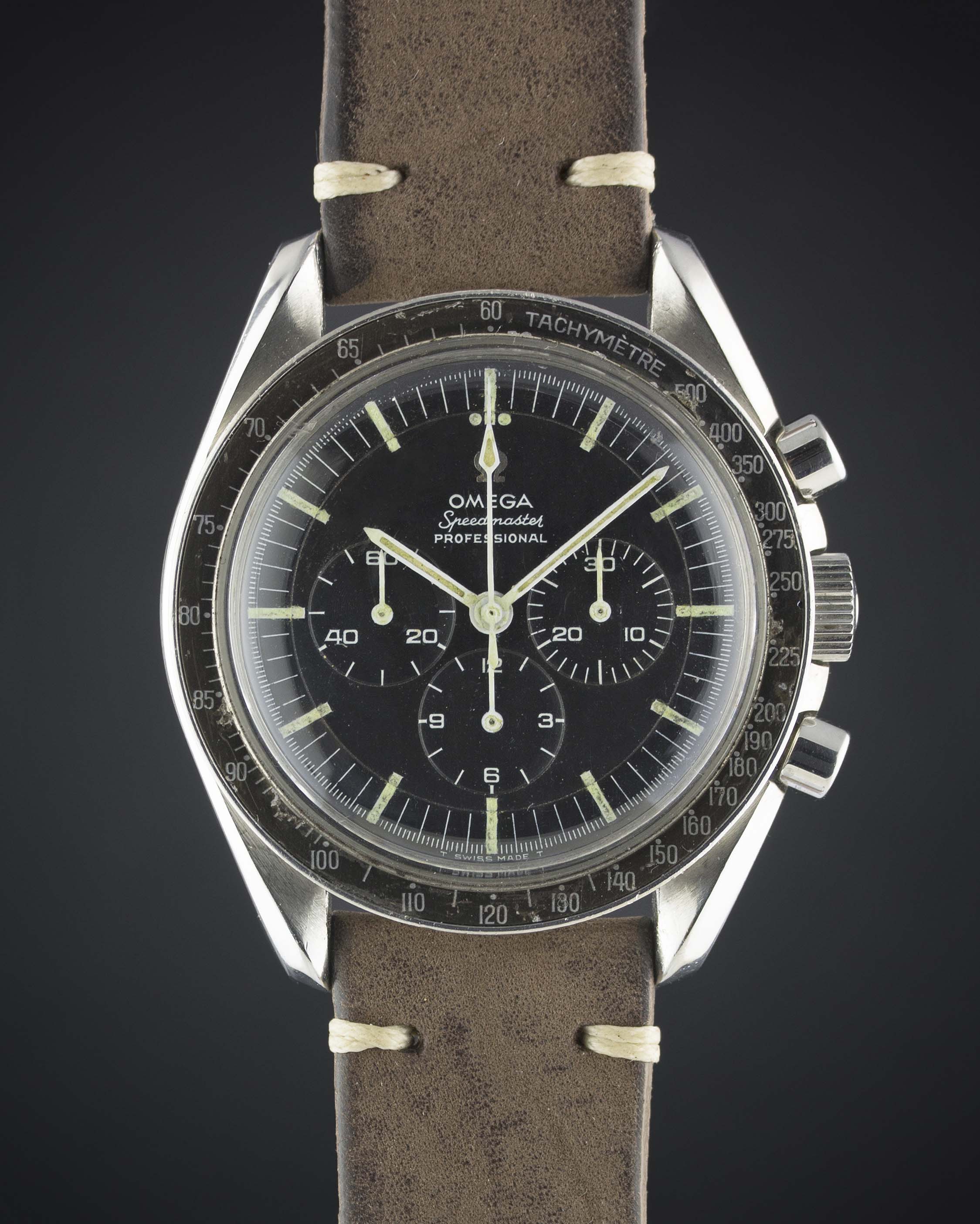 I really want to like this watch, its on the line between patinated and shagged. The dial needs inspection, or at least some photos which I am sure WOK will send you if you ask (they are very good about supplying additional photos). However with 24% fees the high estimate puts it above some better watches sold in the last few months, and I so not think this will fly. UNLESS on viewing that dial looks nicer than it is.
There is a mark at the 7 minute marker that is on the crystal or on the dial – which it is will make a huge difference to the price.
The movement shows plenty of signs of work, and could be tidied up. The movement is attached to the movement ring incorrectly, and so demonstrates a non-qualified service history – which could indicate some deeper problems in the movement.
Lot 195 105.012-66 CB £6000-£7000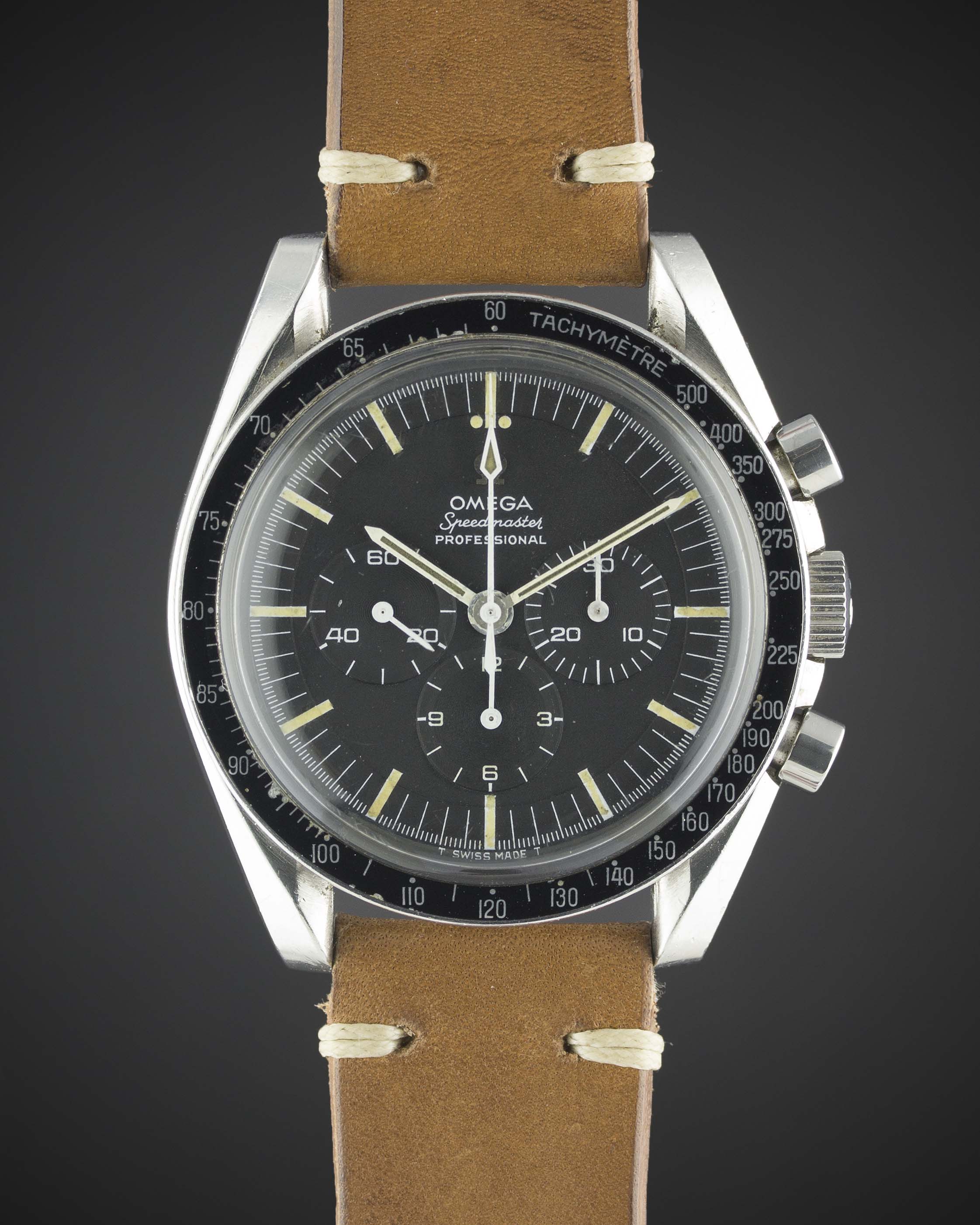 CB case, with Extract. Good bezel, except where it is chipped, slightly "meteor". Appears original pushers which is attractive.
I have a feeling this will look good in hand.
Good evidence of Facet lines. Dial plots are yellow and slightly incomplete but not bad. In fact I think the dial is good apart from the slightly inconsistent plots.
Hands dirty and signs of multiple removals.
It is always better to buy a 105.012 with original pushers rather than service, and always better to buy one with an extract. There are simply too many alternative calibre 321's from that era that are potential donors for transplants.
Ignoring the price this is a good buy.
For the price? Well a little strong but I think it should sell as it is a pretty much an up together watch, with a lot of good attributes. Hard to find a better one on the market today, without saying this is a fine example. Its good, and there are not many available, and this might push the price beyond what a private sale may yield.
Lot 196 145.022-69 4500-5500
Correct.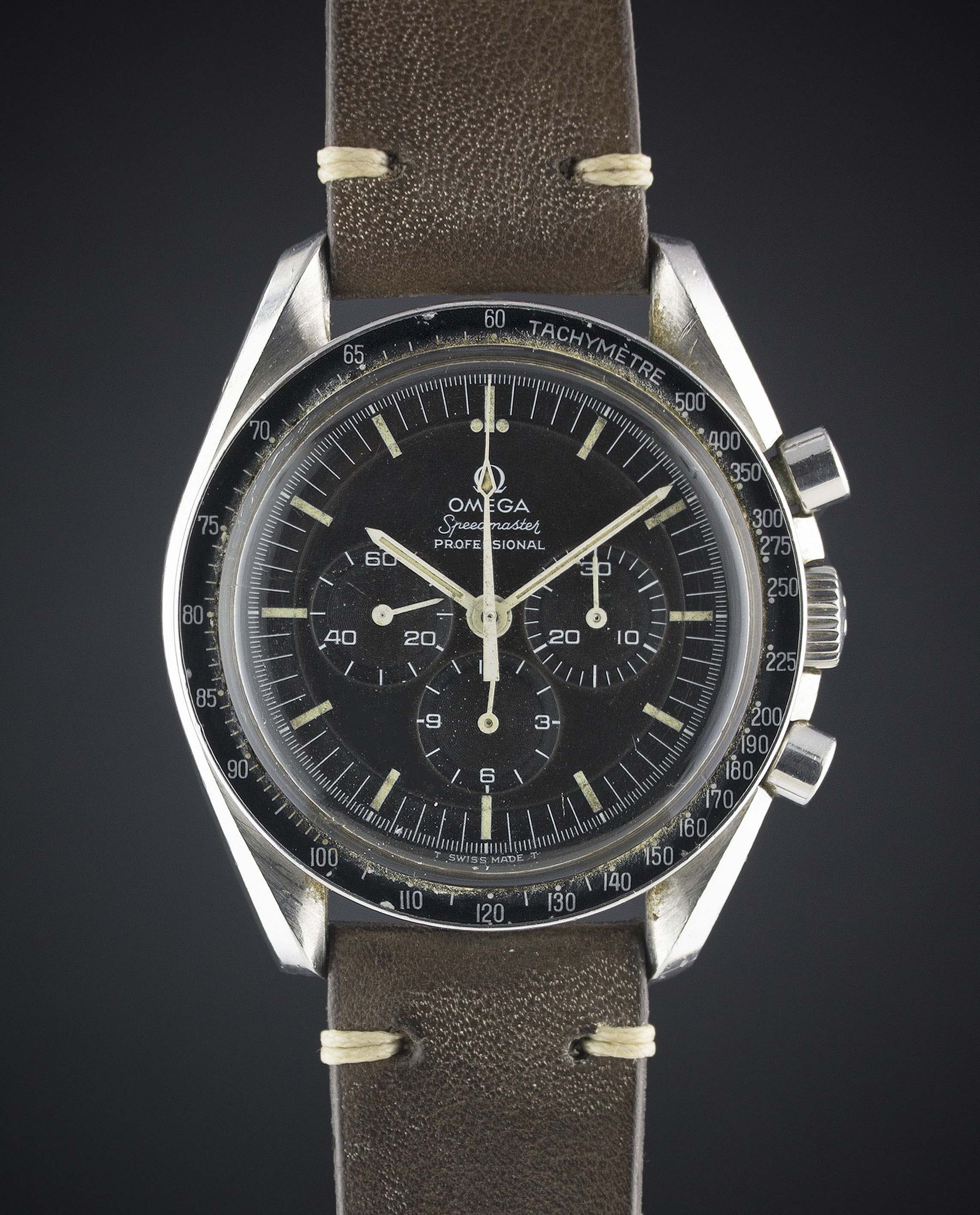 The watch looks a bit dirty, which is a good thing, it could be original and therefore less fiddled with. It will be interesting to see where this ends up. The subdial is creeping, but I would expect to have to service this anyway. I would like to know the serial, to check if it is in the brown series, (2911 or 2960). I think the dial is slightly brown.
The DO90 bezel is either dirty or damaged. That makes a huge difference to the value, obviously. If all those marks simply wipe off, then we have a great watch….if its is damage….then not so much.
Either the dial is spotted or there is a lot of dust on the crystal or inside. Once again, we need to see more or inspect in hand.
The plots look to be devoid of lume but it may be the photos. I think I could like this, subject to inspection in hand.
Lot 197 145.022-69 £4000-£4500
220 bezel. I personally do not see much extra value attributed to these bezels – yet. We are all waiting I think!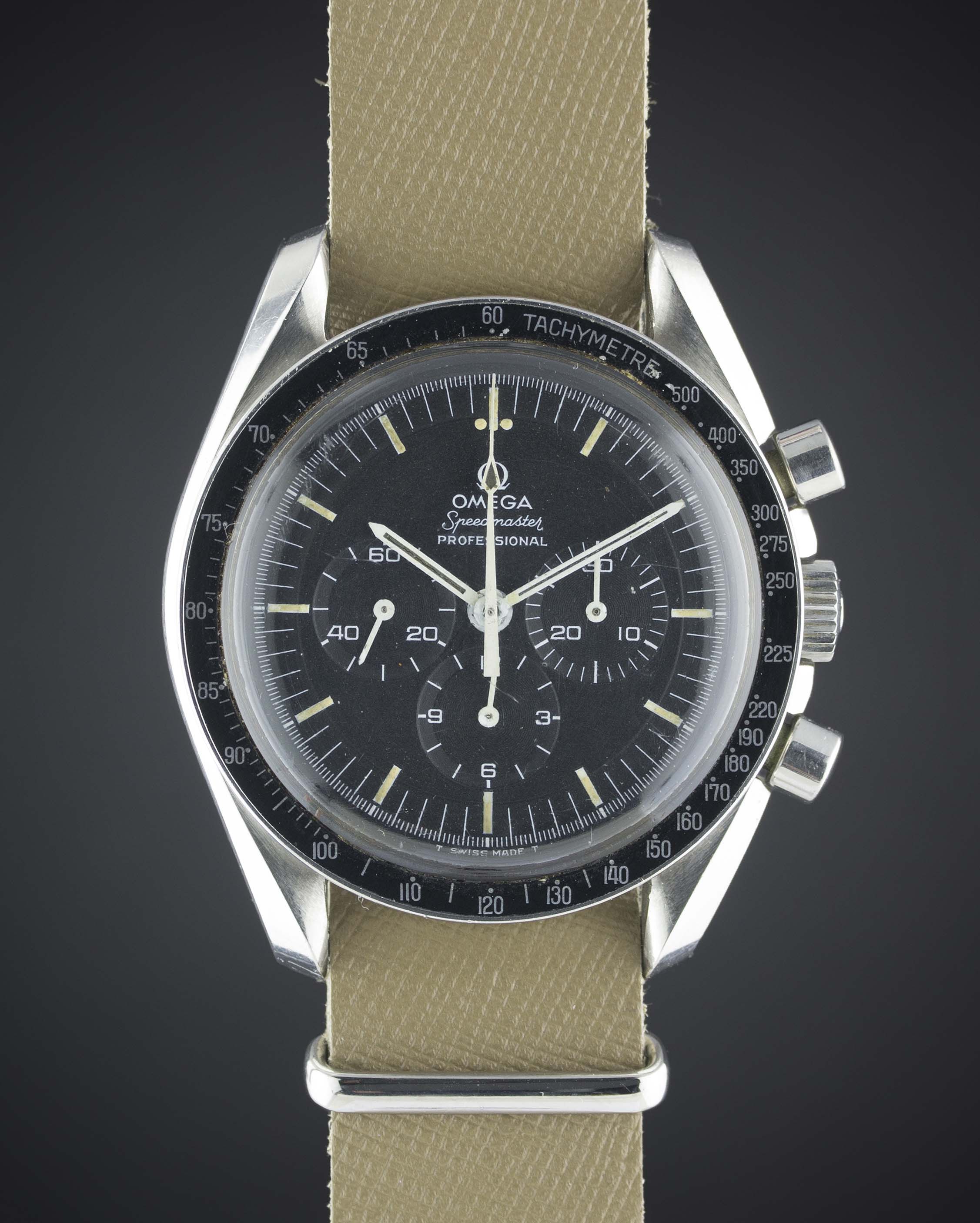 This looks all correct but it seems a strong price. The lower subdial is creeping. There is a scratch over the subdial but I think it is in the crystal.
The case looks sharp.
The dial, (subject to checking the scratch) looks good. I can see this selling. Its quite nice, and appears correct. It will need a service.
Lets see if the market does value this bezel.
Lot 198 145.022-71 Straight Writing £4500 £5000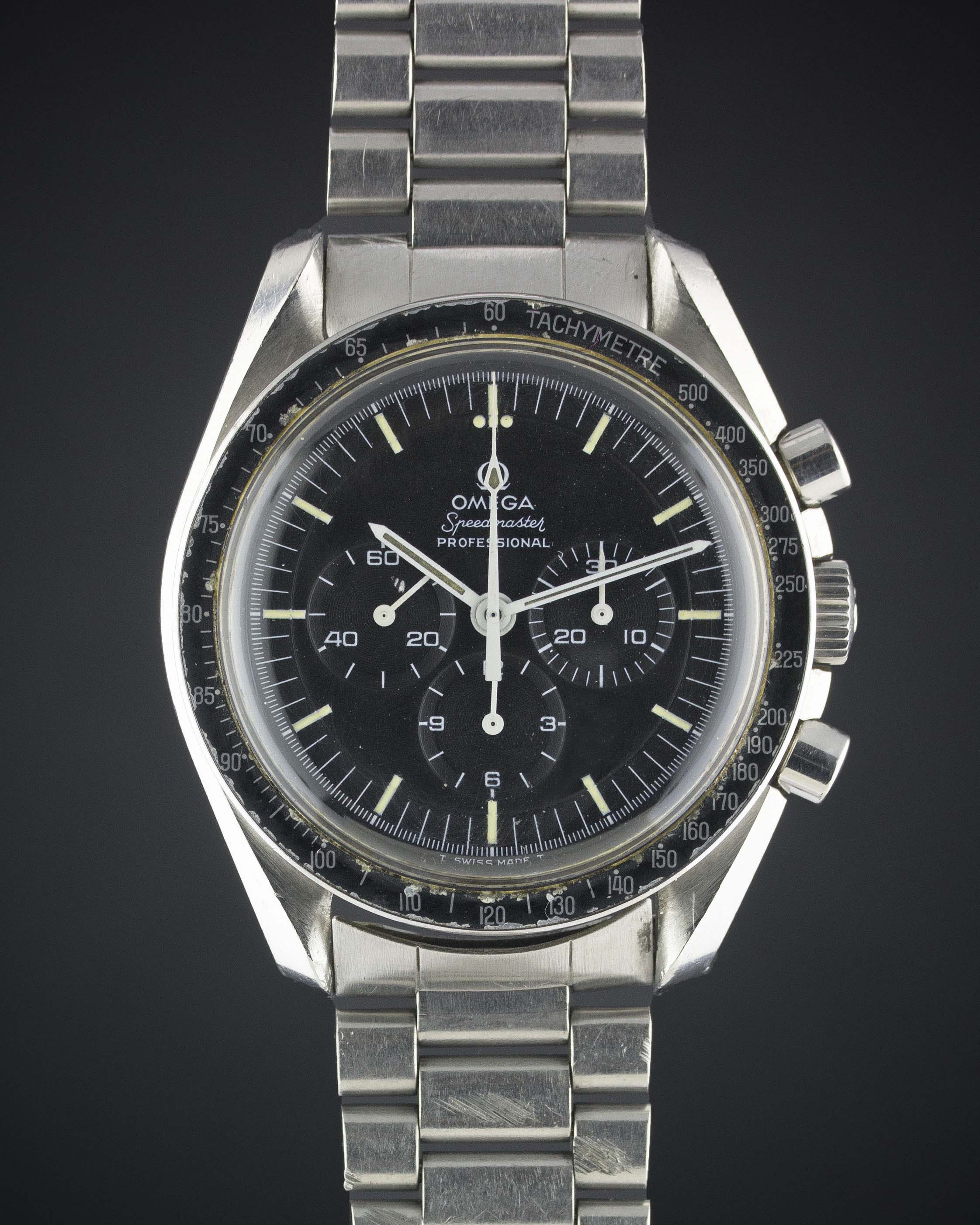 On bracelet, 1171/633.
Watch looks a little tired and original. A fine one will sell for double the estimate, but this is not fine. They are rare, and the market sometimes ignores them and sometimes they sell for a lot at auction. We will have to wait and see.
The bezel is unusually poor, so I would want to inspect the whole watch before bidding. Otherwise this looks a nice original watch that will respond well to a sympathetic service. Once again, I cannot tell the true state of the dial from the photos. There is something on the running seconds subdial that I would want to make sure is on the crystal not the dial.
This could be a good watch to buy, it needs, as ever, handling in person.
Lot 199 Smooth Lunar Box £1500-£2000
This has us all gasping at the price.
Someone might buy this for a Gold 1969 but they would be buying the wrong box. This is for late 1969 but I have seen most with early 1970's watches. It is in remarkably good condition.
And I want it !
While we all in the collector community have smarted at the estimate, I can see this going for as much as the high estimate if not more.
It is very rare, and in very rare original fine condition. Show me another, the last one I saw sold was $850 and damaged. So I would say WOK have got it right on this. (I expect they have a low reserve so no skin off their nose).
Having said that I want it, I am not yet ready to pay more for this box than I have paid for some of my watches. But if I was feeling flush I would. Why? Because with something like this, its not about the money, its about the opportunity to buy. After buying this, the buyer will forget how much he paid, and will simply have one of the best condition boxes I have seen.
Again the caveat here is that the box really is in top condition – it looks it, but before following my somewhat headstrong advice above, for goodness sake see it in person.
Lot 200 145.022-74 £2800-£3400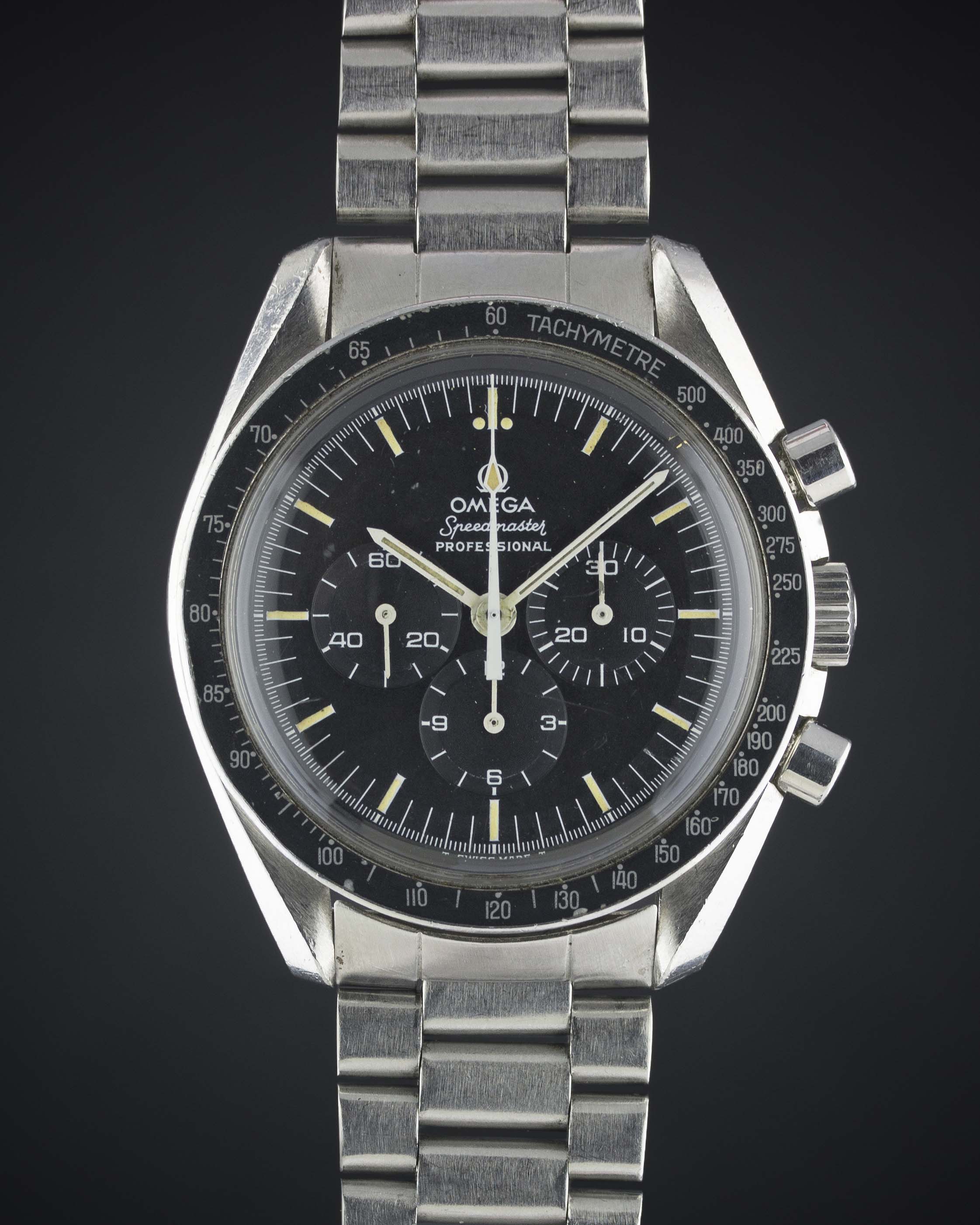 It is important to see if this has a stepped dial or not I am pretty sure from examining the photo it does not – it is more desirable with the stepped dial, but correct with both.
Something unusual going on where the rehaut (metal ring under the crystal) has obscured most of the T SWISS MADE T.
The bracelet is not the expected 1171 but possibly original. These 1171 bracelets are gaining recognition and value in the last 12 months, but this is not that bracelet so the value is not there.
Not bad at the lower estimate, although there are currently better alternatives for similar money or less on the Sales Forum on OF.