Antiquorum is selling a 822 lots in Geneva on November 11-12 2019. The link to the auction is here
In general the Antiquorum catalog descriptions are the least trusted of the Geneva houses, in that there are a lot of watches with undisclosed issues, and miss described, and a lot that are fair to poor quality. It is as though they take a lot of watches from watch dealers who cannot (or too ashamed to) sell these watches directly. The reason I like Antiquorum is that they gather a huge number of varied watches, that give a buyer, (or even looker) a very wide selection to see and learn from. You just have to buy only after careful inspection, as you cannot rely on AQ's due diligence. I am not trying to be rude at all – AQ is a stack'em high, sell 'em cheap(ish) operation with a large number of lots. Because there are so many lots, we always think there might be a hidden gem. The Auction scene would be a blander place without Antiquorum, I do hope they do not take exception to my comments as they are not intended maliciously.
LOT 315
Speedmaster 105.003-65 Serial 24006945 Estimate $7,000 – $9,000
Super spotty Dial, and the lume plots are in comparatively good condition(?). Dial is correct close spaced t's and print intact. H/M hands are greenish black and Chrono hand has orange lume. Bezel as several damages <1mm and is fair but correct DO90. There is no extract and I have not examined movement but I would expect it to need work. As extracts are so easy these days, if it does not have one I think there is a fair chance it wont get one. As an academic exercise, what would we pay for it? $4,000 would probably have a lot of interest, so $5,000 ? Perhaps. But this is reserved at nearly $9,000 with commission. Its a dog.
LOT 316
Speedmaster 145.022-69 Tropical Dial Serial 29115295 Estimate $7,000 – $9,000
Sold in USA on March 12th, 1970
At first glance this has an attractive body colour on the dial. Looking closer I see quite severe damage in the hour subdial. The plots show unusual lume that leads me to suspect it is re lumed (the Lume colour is applied so that the white under paint is visible all around the lume material). The H/M hands have exactly the same lume laid by a bricklayer so I would say the watch is re lumed. The bezel is fair with many damages <1mm. Watch has an extract and a bracelet which is good, but I think the dial damage is going to slow me down on this one. The endlinks do not fit.
LOT 317
Speedmaster 105.012-66 Serial  24951146 Estimate $8,000 – 14,000
Sold on June 8th, 1967 in the USA
As I can see slight evidence of facet lines on the lugs I am calling this a -66CB.
The dial needs further examination to establish the presences of the T SWISS T status. Also from this photo we cannot ascertain a step. The running seconds subdial is dirty, and the hour subdial is badly scored from an incorrect hand. The plots are present but patchy, missing lume in parts. The printing is intact. The crystal may be incorrect as the Rehaut may be missing or incorrect, contributing to the inability to see the T marks. The H/M hands are in fair condition, poor colour and marked. The pushers are short, and may be original with fat necks, assuming they are indeed omega pushers. The lighting gives them a slightly unusual shape but I think it is the light. The dial must be investigated further to check for a step, but the scoring on the subdial really kills the watch for me.
LOT 318
Speedmaster 145.022-69 Serial 31624573 Estimate $4,500 – $6,500
Sold on March 12th, 1970 in the USA
This watch is probably a service dial with no step. It has the T SWISS T mark but I think it is a 90's dial. The H/M hands are wrong, this whole watch is an expensive Elephant. Buy it at your peril. Even at the low estimate.
LOT 319
Speedmaster 105.012-65 Serial 22828462 Estimate $7,000 – $9,000
Sold to Mexico on April 15th, 1966
The dial is correct, short spaced T's. Body shows some small marks that may or may not be from the crystal – further inspection required. The lume plots are unusually orange, and would have me looking for evidence the lume is re applied, we need to do a UV test and inspect under a loupe. There is not the usual evidence for re lume, in that the plots are undamaged, and no scrape marks. It is just an unusual colour, one prized by Rolex buyers and imitated by dial restorers – so I am on red alert. Bezel looks real, a DO90 and in good condition. I would expect the H/M hands to have had adjustment judging from the dial. The pushers are original fat necks. Its an attractive watch if bought well, and you know its faults.
LOT 320
Speedmaster 145.022-68 Serial 26556417 Estimate $3,000 – $5,000
Delivered to Meister in 1969
Well I suppose the best thing I can say about this is that it is cheaper than I would expect a Geneva Auction house to price a Meister. The dial plots are damaged and missing lume in places, that may have been re applied in places. Dial print may be damaged at the 31 minute mark, or it could be the crystal, check before buying, Hands are greenish lume and probably replacements. The bezel is poor, but correct DO90. This is an inexpensive Transitional – fun to have at the right price. Probably looks better in hand than here.
LOT 321
Speedmaster 145.022-76 Serial 39922606 Estimate $2,000 – $4,000
Dial is domed and correct for reference, with intact lume and print. The H/M hands are probably original, the M hand has cracking lume. The bezel is correct but shows multiple damages. At the low estimate its fair. Its so cheap they did not even bother to get an extract.
LOT 322
Speedmaster 105.012-66 Serial 24953867 Estimate $4,000 – $6,000
Dial is correct, wide spaced T. Lume is quite strong orange, missing in places. Hands do not match, which is often a sign the watch has not been re lumed. The h/m hands are in fair condition, and the chrono hand has a yellow lume. Its all a bit miss matched and as a result probably original – I dont know why AQ is so sure these are service hands. They may be, I only have one photo to go on. Thing is, its so cheap it doesn't make a different. This is a strong buy up to high estimate. Pushers are service, I think the crown will be too.
LOT 323
Speedmaster 145.012 Serial 20552955 (out of Range) Estimate $7,000 – $9,000
Dial is correct, stepped and in good condition. Plots are slightly patchy, yellow lume. Print is intact. The h/m hands are unusually matching and may have been re lumed. Subdial hands are showing some corrosion. Bezel is a modern service replacement and kills the watch at this estimate – even if the movement turns out to be in the correct range as I suspect the second digit may have been a miss read "6".
This watch is really a poor example. Look at the lines on the top of the lugs, and you will see it has been polished to within an inch of its life.
LOT 328
speedmaster 2915-1 Serial 15996671 Estimate $80,000 – $140,000 Sold on December 24th, 1958 in Mexico
Flat oval dial. Short indices on subdial. dial body has damage at hour subdial lower lip. There is also either debris inside or dial has numerous small marks. The plots are missing lume in places, and turning quite orange in places. The print at the 34 minute is either damaged or the crystal is distorting. The H/M hands are strong coloured. I would expect them to have been re lumed at some time. The Subdial hands are dirty and old. The pushers look original, as does the crown. The bezel needs further study but my assumption is that it is a German Repro until I can match it up with an original. So far I cannot. All these 2915's, especially sub $100,000 mark, are going to have lots of issues. If you are going to play here, you have to have a gamblers attitude. As a gambler, the odds are against you in this auction house. All that said, its not a bad buy at this level. I just dont see it sailing past the low estimate too far. (Watch me be wrong).
LOT 509
speedmaster 2998-6 Serial 18645478 Estimate $16,000 – $22,000
Dial is correct for reference. The dial is damaged, marked at the running seconds subdial. There is some gentle bubbling at the 2 marker. The rest of the dial seems fair, possibly a little "dry". The plots have thin coating of lume, missing in places. The hands are probably original as they show age and decay – but not in a bad way. The triangle lume hour hand is the best one to have on this reference. The centre chrono hand is needle, and not usually seen on a 2998 this late, so to contradict myself perhaps it is replaced. The bracelet needs verifying, along with the endlinks. If they are 7912 and original No 6 endlinks then this watch is a buy. The overall look of it is commensurate and it looks right. It is not fine, but it is not expensive either. It could be a great wearable watch – even though in the back of my mind I think this is a bit cobbled together.
LOT 510
Speedmaster 145.022-69 Serial 29636912 Estimate $3,000 – $5,000
Dial is very good and correct. Hands are correct and original. Bezel is good. Its a single family ownership. It looks really good. It does not have an extract.
LOT 602
Speedmaster 105.002-62 Serial 19584984 estimate $8,000 – $14,000
Dial is correct, no T marks. The body may be clean, but there is debris, and scratches that are probably dust and the crystal, but you need to make sure before buying. The dial plots are very thin and not attractive, with dirt. The printing is intact. The H/M hands are thin lume, with I think curved ends and also transverse curve so I think are age correct. The chrono hand is the correct drop end, with a yellow lume. The bezel is a correct DO90. Crown looks original and the pushers also look original. It is not expensive at low estimate, but it is what it is, a correct but fair condition example of a very rare reference.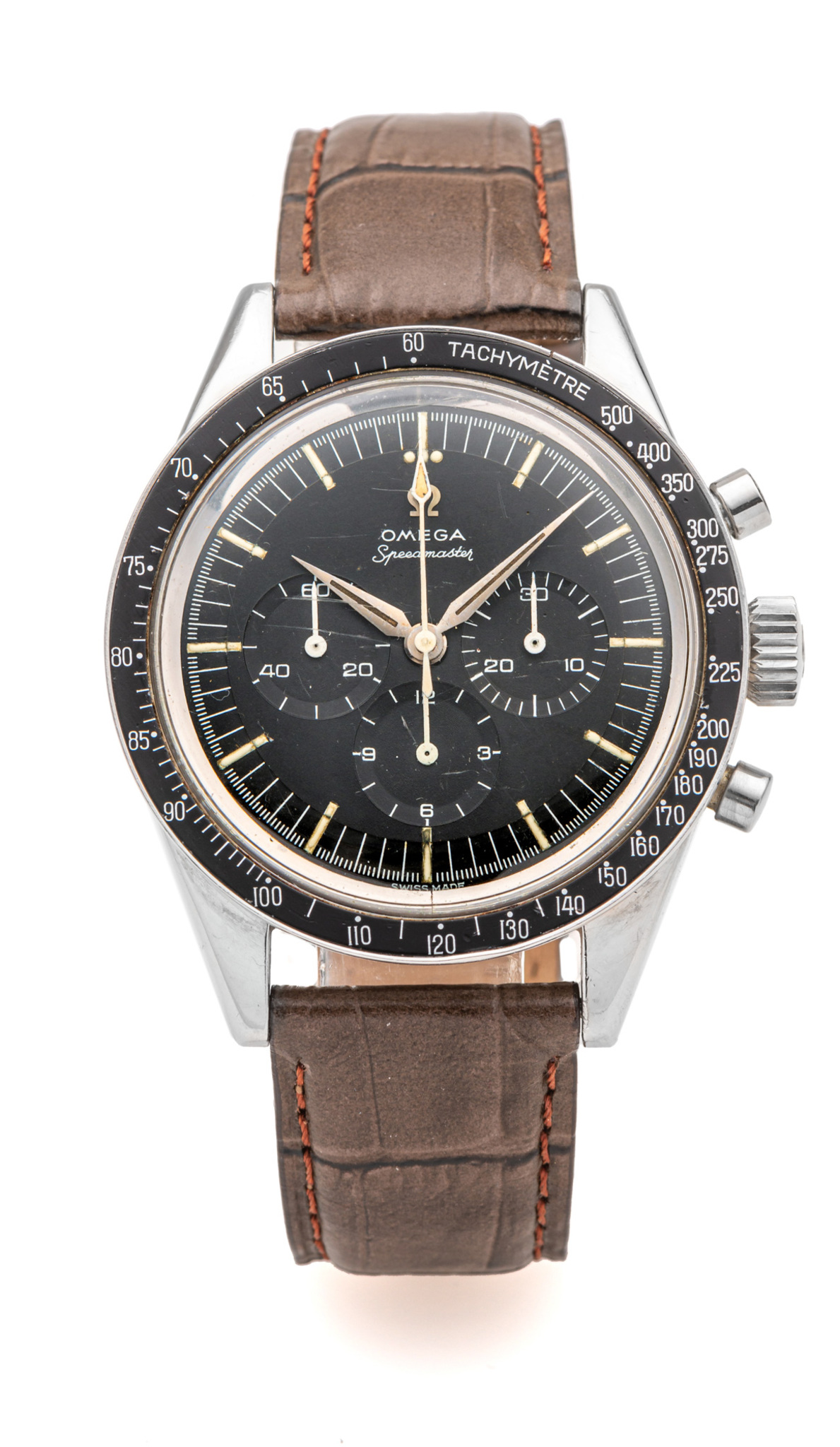 LOT 603
Speedmaster 145.022 Soyuz Serial 39180966 Estimate $40,000 – $60,000 Sold in April 1976 to Italy
It has the extract, which it needs to be any use at all. Lets see where this goes, there is another single owner one in Sothebys for half the estimate. This one has issues with the bracelet being too narrow at the endlink. With A-S's beggars cannot be choosers, but in this case you can choose to look at the Sothebys one.
On second look, I think we should also look very closely at the dial and hands, as they look similar to some Re lumes. I am not saying from this one photo that is the case, I am saying that from this photo I would need to check more carefully.
I review the four Geneva Auctions from Phillips, Antiquorum, Christies and Sothebys. They are on separate pages so click on the names to go direct to my page on them