A review 145.022-69 for sale/Now sold
Here is a watch for sale at www.OmegaForums.net. I am reviewing it because it brings up a few questions about the way we view watches on sale.
I wrote this last week, but published this only after the watch is sold, as I do not wish to unintentionally influence a sale. I have no connection to the seller and I am not recommending to buy it, but I do suggest all of the literally dozens of people who ask me about an entry level 145.022 to at least look at this and wonder if the re lume is worth living with at $5500.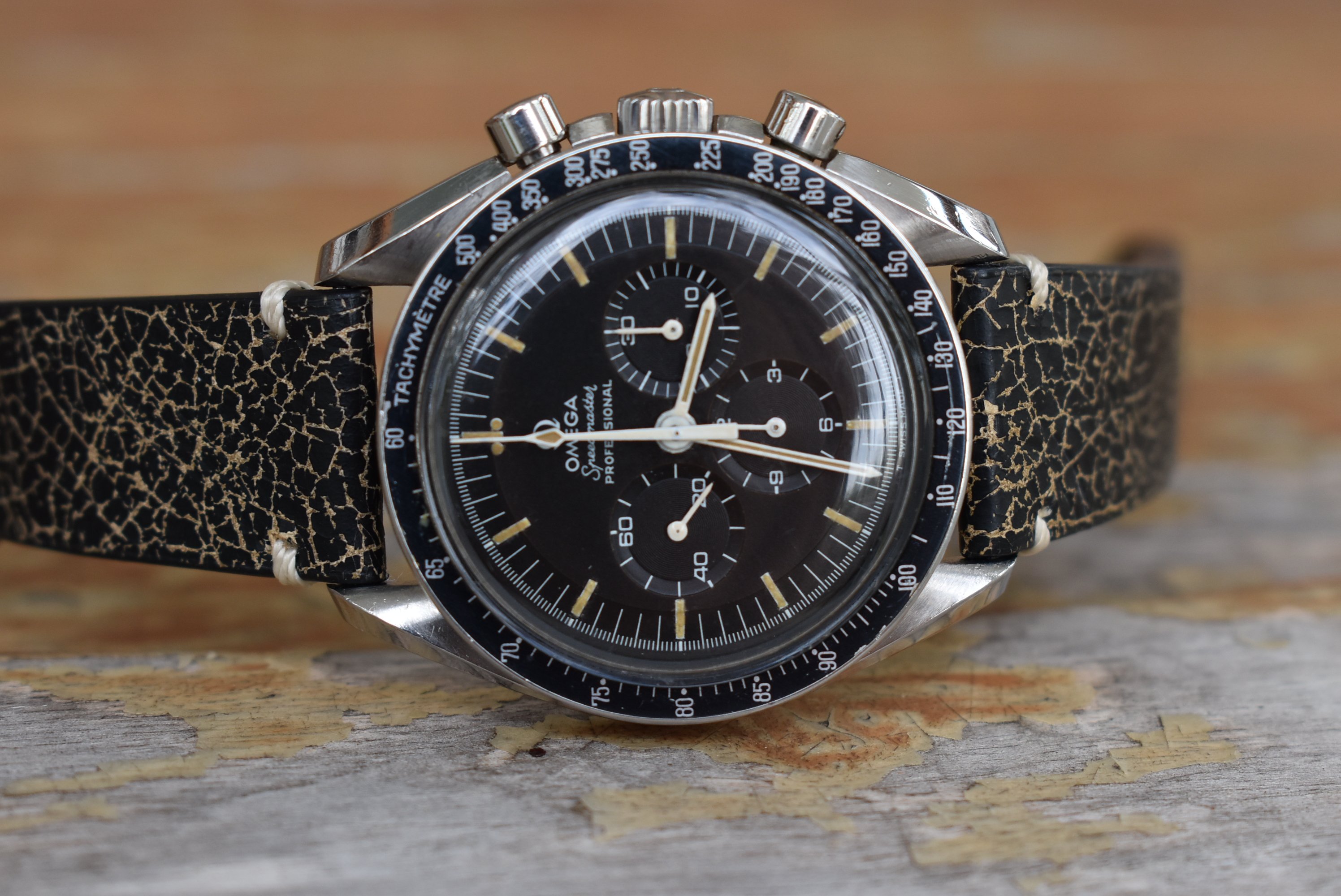 Essentially this is a good looking 145.022-69 with a DO90 bezel and a dark chocolate dial. And the price has just been reduced to $5500.
Why has it not sold? Some people would pay more than half that for the bezel! Well it must be primarily because of the declared re lume.
The owner has declared the dial and hands as re lumed. In the past, re lumes were very easy for most to spot, and were not very good. Now, we have some very skilled technicians, well one in particular,  who can replicate an aged lume on a dial, often making the watch extremely attractive and without any obvious signs of work, especially to a less experienced collector. Unfortunately, the work in this case is not top, but it is quite good. It may be possible to remove it and re apply where it is sloppy.
In the following image we can see the imperfections in the work. The 11 mark has two lines extending from it, the 12 spots do not look normal and the 1,2 and 3 marks look sloppy.
In the following image we see the hands are easily spotted as painted and re lumed as the work is not the highest standard available. Note the finish on the hands is shiny, and uneven – I want to say lumpy. It can never be confused for original, but it would be an easy fix.
In this case, the seller has correctly declared the work, but I am sure that there are others who would not have declared it and the watch would have been sold quickly at the initial price of $7500.
What I realise is that the private sellers on the forums have become quick to be up front about work done on watches. This is to be welcomed. On the other hand, buyers are not quite so ready to accept this honesty, and sometimes they go and buy a relumed watch from a dishonest person who has told them it is not relumed.
Everything has a price. And I think the price here is about right. I was even tempted to buy it myself, but I did not.
What I am saying, is that I personally am not quick to dismiss a re lume if it is up to a standard, and down to a price. Remember after all, what a dial washed of lume looks like, and which would be nicer to live with.
The original listing for this watch is here.