Phillips Auction November2022
There is only one "ordinary" Speedmaster here, the 2998.
The rest are all special and clearly looking for strong prices. It will be interesting to see how the market takes to the two prototypes. I expect the Mir to go well, as they always seem to, while the 18kt Gold BA could go either way – the bezel is poor, and I am not sure the Cartier signature is that strong an influence in a watch like this – we shall see. I feel it may go not to a speedy collector but to the next level up (Money wise) to a collector who likes signatures.
The real beauty here is the 2998, which is fantastic.
Lot 72 – 145.012-68
Flightmaster Prototype
72
Omega
Ref. 145012-68SP
A possibly unique, extremely unusual and superbly important stainless steel prototype chronograph wristwatch with additional 24-hour hand and bezel
Circa 1968
42mm Diameter
Case, dial, movement and buckle signed
Estimate
CHF60,000 – 120,000 
€61,800-124,000
$60,100-120,000
I am always a little suspicious of prototypes, especially "unique" ones. However, this one makes sense – a step toward a flightmaster. The dial looks vintage, but that could be from anywhere. The bezel really does look old, and I believe it. The hands are surely redone – the lume is so consistent and matching. However, I don't see that as a particular hindrance. If it is a genuine prototype, it does have significance and attraction.
In any event, I wonder how this legitimately left Omega. There are legitimate routes and it will be up to the buyer to establish.
I do like it, and as long as the buyer is happy with the provenance, (which is beyond me to verify) I think it will be a good addition to the rare-air speedy collector.
Added 30 October 2022
I have been in contact with several people in USA and Geneva.
As a result, I will make the following points.
The silver umber bridge is an internal Omega item, with established use for prototypes or "First Look" watches. These silver bridges are very rare, and the number here matches the records in the Museum.
The bezel is a 24-hour bezel with indications of age. These bezels were sent by Omega to Houston. Nowhere else.
If this is a put together by a fraudster, then it seems like a lot of work to modify the movement and case, and find the bezel and silver bridge. Then of course the fraudster will have to convince the museum to issue paperwork.
I have spoken to more than one person who has suggested a plausible route for this watch to reach auction.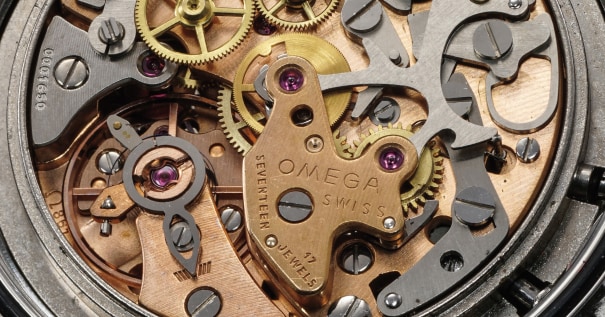 Lot 73 – 345.0022.105
Mir Flown Case Back
73
Omega
Ref. ST 345.0022.105 – PIC 03596.50.00
An exceptional and rare limited edition stainless steel chronograph wristwatch with "MIR – 365 Days" caseback inscription, bracelet, certificate, international warranty, impressive travel case and unique copy of the MAGISTER book, numbered 1 of a limited edition of 28 pieces which were flown in space for a year
1993
42mm diameter
Case, dial, bracelet and movement signed
Estimate
CHF40,000 – 80,000 
€41,000-82,000
$39,900-79,800
I have seen interest at quite a strong level, I expect this will sell. This has the added interest of being No 1 in the series. A little outside my wheelhouse this one.
74
Omega
Ref. 145.022
An extremely rare and unusual stainless steel prototype chronograph wristwatch with white dial and 60 minutes bezel, accompanied by red thermo-protective case, made for NASA
Circa 1970
40mm Diameter
Case, dial, movement and buckle signed
Estimate
CHF100,000 – 200,000 
€103,000-206,000
$100,000-200,000
This is tough one.
In the auction description are some important words: (My emphasis)
"The present piece is indeed part of this restricted and extremely specific output. According to information received from the Omega Museum, the present piece appears to be a intermediate effort to be placed between the Alaska I (1969) and Alaska II (1970) projects. In fact, while this cannot be 100% confirmed, the Museum thinks this watch might mark "the beginning of said "Alaska II" series of projects.". It is unnecessary to point out the peculiarity of such a timepiece, even in the already highly uncommon panorama of the Alaska Project pieces.".
All that said, I love it. It certainly has all the characteristics that have been floating in the collector's knowledge base – the white dial with the metal furniture. Those Apollo style subdial hands, here in red.
The bezel – I have my thoughts on that and happy to respond to PM's.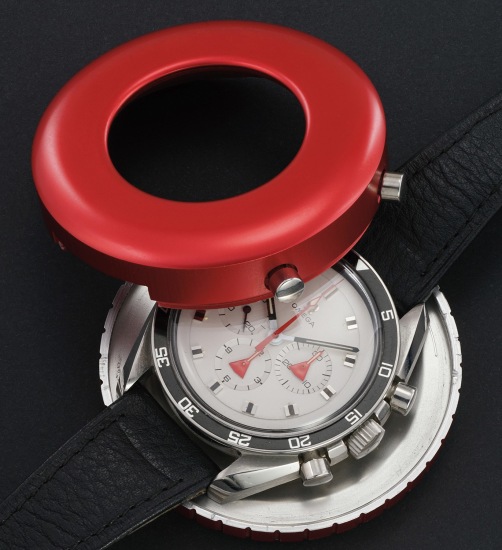 Lot 184 – BA145.022
Retailed by Cartier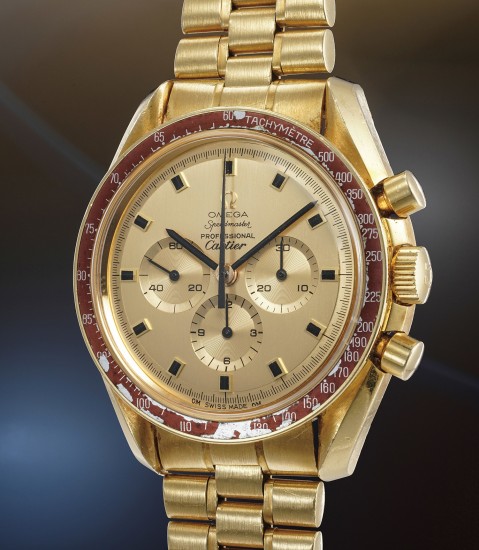 184
Omega
Ref. BA145.022
A possibly unique, highly important and uncommon yellow gold chronograph wristwatch with bracelet, number 050 of a 1014 pieces limited edition and the only example known retailed by Cartier
1969
40mm Diameter
Case, dial, movement and clasp signed
Estimate
CHF60,000 – 120,000 
€61,800-124,000
$60,100-120,000
This watch is not fresh to the market, and has been floating around since 2017 when it had an asking price of $100,000. The consensus then was that there would be little appetite for this watch at that level.
The condition of the case and bezel is quite worn, especially when compared to recent sales.
The bezel is destroyed and irreplaceable. The early number (50) and the oval Omega make it interesting, but to be honest I would rather own one without the Cartier, and a good bezel. Others may feel differently.
I just cannot get exited by this, at the price suggested. There have been several examples sold recently for less, in better condition. The Cartier signature and history might raise the value, but not to die hard Speedy Collectors. Well, to be clear, to this speedy collector.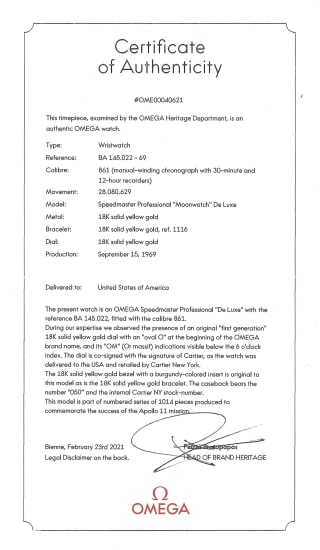 202
Omega
Ref. 2998-1
An extremely well-preserved, early and very rare stainless steel chronograph wristwatch with "tropical" dial and bracelet
1960
39mm Diameter
Case, dial, movement and bracelet signed
Estimate
CHF30,000 – 60,000 
€30,900-61,800
$30,000-60,100
Now this is  watch – I like this
Phillips call the case untouched and it may be, I would need better photos but I would say nothing I see contradicts this.
The dial is superb – I am sure it will react for Radium, but you better make sure. The colour looks very attractive. The one slight issue I have is the frosting on the edge of the subdials as seen below. I have seen this before on cleaned dials, but that was my experience when a watchmaker cleaned a dial without asking. In any event, it is there, and you have to decide if you can live with it. I could for the right price.
The bezel is amazing, as it should be if this watch was a safe queen as said.
The one thing, (not a dealbreaker) is the square ended slots on the hour hand. I dont see square hands on original hands, yet. So I would want to examine this hand very closely for other indications it is indeed old, such as transverse curve, and commensurate surface finish compared to the minute hand. It would not stop me buying it, but I want to know either way.
To be clear the issues I raise on this watch are minor, and the fact this is all I can find is a recommendation in itself.
A beautiful watch. Cheap at the low estimate, and a bargain at the high.
This watch could go quite high if the quality is recognised by more than one bidder.