Introduction and Backgound on Some Previous 2915s Sold

Several people have contacted me recently regarding the sale of two 2915 speedmasters.
One at Monaco Legends, listed here for Euros 150,000 – 300,000 (USD $165,000 – $330,000). The other is at Skanes in Sweden listed here, for Kr 300,000- 400,000 (USD 29,000 – 39,000).
I hope all of you who have contacted me forgive me for not replying individually but so many people have asked about these watches I thought it better to write this article with my thoughts and point you all towards it.
Myself and several of my collector friends are still reeling from the sale of the 2915 at Phillips for a staggering $3.4 million – here is the article by Perezcope detailing the sale, and this is the Phillips $3.4m watch (Click on photo to see the original listing) :
The Perezcope article is an extremely good forensic examination of what is essentially an optimized watch. However the article does not dwell on the huge elephant in the room – the fact it sold for $3.4 million. Not a criticism really – the article is about the watch, but that is an inexplicable amount for a speedmaster, around sixteen times the previous all-time-high, and not seen anywhere near since.
This watch was put together with intent to defraud, and the people involved will have to make their own peace with their maker.
I have known a few rich people in my time and the one thing they all have in common is that they are not stupid, and they will not overpay for anything. And so the big question is what was the buyer getting for his $3.4 million?  For certain, it wasn't a good deal on a speedmaster. So at the risk of stating the obvious – he was buying something else.
Within hours of the sale being announced Instagram was flooded with brown dialed 2915s, some of which were much nicer than the watch sold, and I'm pretty sure that every single one of their owners would have happily sold their watch for half the price achieved by Phillips , bearing in mind that the previous record for a speedmaster 2915 was 400,000 U.S. dollars. (Well I would have sold one of mine for that – still would).
So we can ignore the record price as being a fraud and concentrate on the other previous record prices.
This is the "Bukowski" watch which fetched $275,000 and is thought to be an original, correct watch throughout. Note the flat top 3 bezel. This was a deceptively good watch. Well it kind of deceived me, at the time, but several bidders fought for it and they were right with hindsight to go after it.
Below is the Phillips watch sold for $400,000 in 2018 and for me the bezel and pushers are wrong, and it makes the Bukowski watch look like a bargain.
Now we have the background, let's look at Monaco and Skanes watches, but before that some general points to note about 2915s.
Points to look for when looking at any 2915
Gaining knowledge and experience of 2915's is very difficult indeed. There are very few watches that have come to the market, and those that have, they often have unverifiable history. I have to draw on experience gained on other early references to make an intuitive or informed guess as to the originality of the watch.
Any knowledge I have is really by the generosity of others, many of whom have handled many more 2915's than I and more importantly they have the skills to retain the information in a useful way – thanks must go to @T_Solo_T (this is his site, covers way more than 2915's) for all his bezel knowledge and in-depth lume reading as well as background information pertinent to all 2915's.
Because of the value of these early references, their trade is open to abuse by morally compromised people. They will try to deceive, and offer a watch that is not as described, to people who have no ability to judge the originality or condition of the watch. These people will take compromised watches and add or swap parts, manufacture bezels, patinate dials and hands, all to present a false image – a caricature of an original patinated vintage watch.
Actually I have no issues if people want to do that – but you must disclose. On the Monaco watch, someone knows the bezel is repro – and they have not disclosed it. This is the worst kind of watch dealer, one who feigns ignorance, and hides behind an auctioneer like a naughty little boy with no character hides in his mothers skirts. The permanence of the internet, and the power of crowd-source knowledge, means these perpetrators are often found out, even if we don't know their names, we know what they did.
I think that I now have a little knowledge of these watches but there are people out there who know far more than me and I'm very grateful for their help in preparing this article.
In general terms when looking at 2915's we have to verify the parts as being contemporary, and then the condition of those parts, and finally we have to make a judgment as to how many of those contemporary parts were originally on the watch, all to together, when the watch was released from the factory. It is very unusual to find any early speedmaster with all the same parts on it that it had when it left the factory. So we have to make a judgment.
Bezels are always a minefield because most people do not have the foundational information to base a judgment of originality. There are at least four people making extremely good replicas. Luckily, it seems to be very difficult to replicate both the design and the techniques as used originally, and combine it with believable aging and patina that all original bezels exhibit.
Finally we make a judgment as to whether or not the watch as a whole is attractive a thing. This last point is often overlooked by dealers or naïve buyers.
The Monaco Legends Watch:
The photo is beautiful and makes the watch appear initially very attractive. The whole presentation is overall very slick.
We have a clearly defined bezel, with a clean looking dial with pumpkin colored luminous material on the plots and the hands. The bezel and crown appear correct and complete and the whole watch has an overall look of completeness, and makes me think of a child dressed up for Sunday school on its best behavior.
The dial has an Oval O Omega. 'Swiss Made'  Short Subdial indices, long dial markers and no discernible step. This is the expected configuration for the reference. The quality of the dial is very hard to judge on these photographs as the resolution and the focal point are not designed to allow us to see minute details, especially the dial surface. For example if I zoom in I cannot see the concentric rings on the subdials. Therefore any minor blemishes will not be shown.
The print on the dial is clear and defined and I think that any apparent disruption of the outer track is in fact marks on the crystal.
I am concerned by the color of the luminous markers. I refer to this color as "dealer-pumpkin" as this strong orange matching lume is unique to dealer prepared watches. The next red flag is the fact that the luminous material on the plots is almost an exact match for the luminous material in the hands (indeed may well be exactly the same material if we examined it under  magnification).. This has my speedy senses tingling, and I am more than 50% certain that this watch has had the luminous material adjusted. It is possible it is just been dyed, but I am 100% certain that the hands have had luminous adjustment. Note the black discoloration at the edge of the lume, next to the metal.
If we look at the bezel I am 100% certain that this is a reproduction. This is based on my comparisons to a known flat top three bezel. In addition it looks brand new.
Note the clarity and definition of the engraving. Note the perfect edge and sharp lines of the metal – this is a new item.
I think this is a dealer prepared example, designed to catch a naive buyer. I think the bezel is repro, the lume adjusted, and the extract in need of updating, and the other Omega papers unconnected directly to this watch – so window dressing. I find the addition of these extraneous documents almost insulting.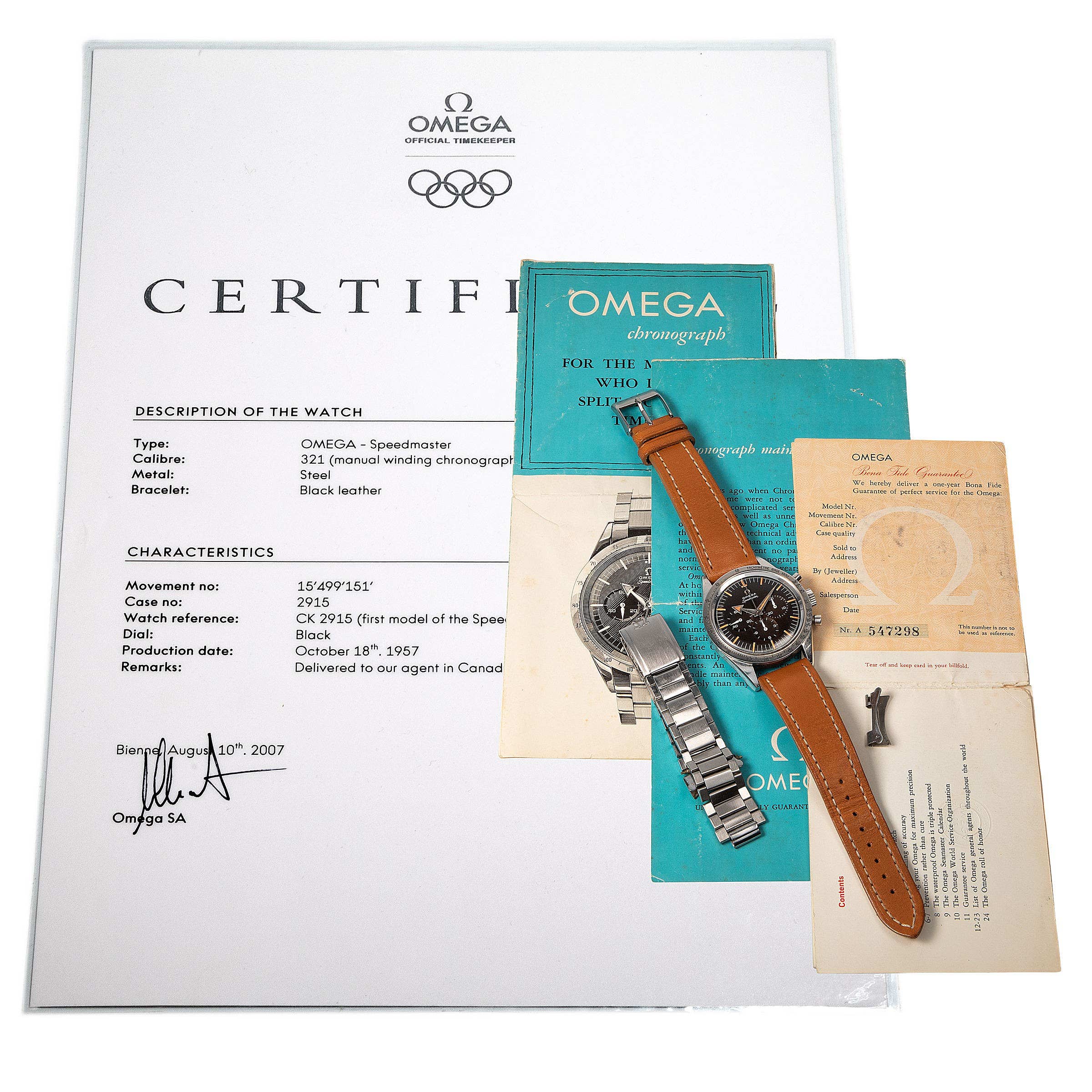 The extract is from 2007, a notorious period when it is said extracts were issued on a favour basis, and so any extract from the period will always need to be confirmed by a collector like me before purchase. It is hard to comprehend why a seller of such a carefully prepared watch, would not update the extract.
The other documents are perhaps contemporary, but unconnected to the watch. I don't know why this sort of thing annoys me so much – it is left unsaid and so the buyer is pushed to believe they add value to the watch. Make no mistake, they do not. Yes, they are fun to have, but they in no way validate or otherwise authenticate the watch, and it is suggested, by omission, that they do.
At USD 165,000 plus premium this watch gets a big fat no from me. There are many other speedmasters, even 2915's, I would spend the money on. This watch simply reeks of Geneva or Milanese plotting.
Moving on…
The auction house gets a B minus for its photographs.
In today's day and age this is inexcusable, as I know 17 year olds who are taking better photographs of watches (@renfmedia on Instagram). That said I know how easy it is to get sucked in, and not step back and realize how the watch does not actually show in the photograph, in this instance because of overexposure or lack of adjustment. As we can see the original photograph above is very dark and hard to make any judgments with.
So below is a photograph that I have adjusted so that we can get a little more information from it. In fact while the listing photos as presented are dark and hard to read, a quick run through my photo editing program gives us better images than the Monaco watch, more detail and resolution, and more images. So I am not complaining.
In the above photo we can easily see that this is quite a different watch to the Monaco watch. We can clearly see the dial, and even the bezel engraving.
Here is another image from the listing, but cleaned up by me so we can see some details. Note the concentric rings in the subdial, this indicates a focus point. All those specs and dust particles are a good thing, as there are no surprises hiding out of focus. For example we see a hand drag mark on the hour counter, between 12 and 4.
We can also note the variation between the lume plots – combines with the rust on the subdial hands indicates some environment damage over time. A re lume will be more consistent.
I cannot decide on the hands, but I do not really mind as the rest of the watch is so honest.
The dial itself is correct with an Oval O in the Omega, short indices on the subdial, long  hour markers and Swiss Made on the dial. The dial shows no discernible step and appears to be what we would expect in this reference.
Bare in mind this is probably a more accurate rendition of the watch:
(Untouched by me)
This photo clearly shows the  character of the watch, and bears out the offered history from the auction house. That is, family ownership.
The points that attract me to this watch are:
1. Miss-match in the hand/hour markers, leaning to original plots
2. Decay on the two subdial hands, leaning to original subdial hands
3. the damage to the bezel, acquired over long time. (and the fact it is original)
4. the matching decay on the inner case back and the mid case where they meet.
5. Correct size pushers.
Also we can see the inner case back, with no watchmakers marks, and slight black decay at the edge which matches up with the mid case.
The bezel shows every indication of being original. It is also a flat topped 3 and this was fitted we think to the early 2915 and is very unusual to see in the original form as they tended to fall off. The fact that it is still here, and it is original, is a huge plus.
We have a movement shot and there are no issues.
Conclusion
As with any auction, the really important questions are, will it sell, and for how much.
Secondary is, who is selling, and who is buying. These last two are often unanswerable but fun to speculate.
My guess is that the Monaco watch will have no trade buyers to support it, so it will only sell to a private buyer, and one therefore with more money than knowledge. Without the trade support, the auction house will be relying on two private bidders to light the fire, and they may not be there in today's very thin, and informed market. It may be very difficult to get the ball rolling on this – unless the auction staff do a lot of pre selling, which of course is their job.
I think the Monaco watch is a dealer owned watch, and will either fail to sell or sell without strong competition, to a private.
The Skanes watch will go for minimum double the estimate, and have several trade buyers ready to support the bids. The seller is a private family, the auction house has estimated it so low that even I am interested and I hope the buyer will be one of two or three competitive private people beating out the dealers.
The Skanes watch is a full strong buy from me.